Dinner planned to remember trailblazer Mary B. Smith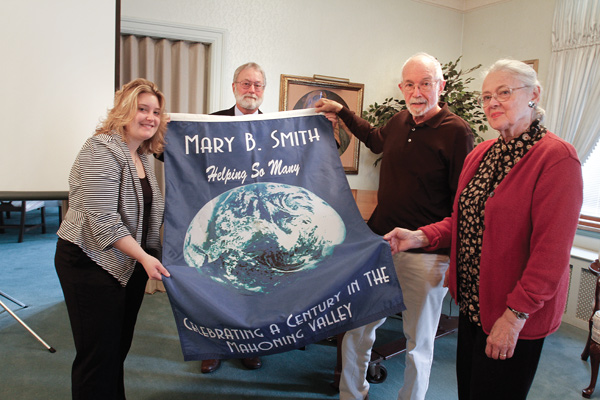 ---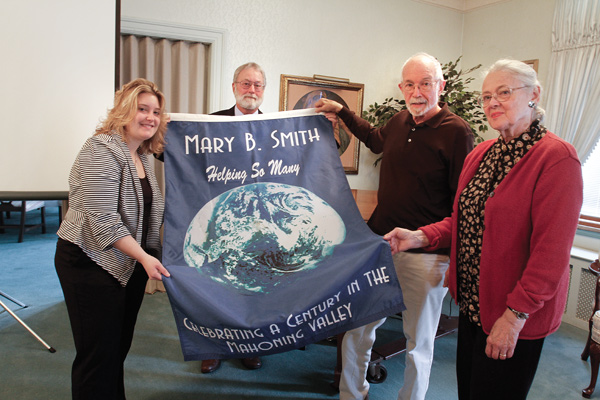 Photo
Members of the Friends of Mary B. Smith Committee, from left, Kristen Olmi, Rick Shale, Jim Ray and Judith Stanger, show the banner that will be displayed on the landing of the main stairway from DeBartolo Hall's second floor to the lobby in the College of Liberal Arts and Social Sciences at Youngstown State University.
By LINDA M. LINONIS
YOUNGSTOWN
The late Mary Boyer Smith made a name for herself in the Mahoning Valley.
She was a forerunner in the single name trend, known to many of earlier generations as "Mary B." That was before Cher, Jackie O, Madonna and Beyonce.
Mary B. was a trailblazer in her career, which spanned from 1939 to 1980 at Youngs-town State University.
Her influence wasn't just limited to YSU.
She was involved in myriad community organizations and her philanthropy benefited many.
The Friends of Mary B. Smith Committee and Youngstown Chapter of the United Nations Association, of which Smith was a founding member, plan a memorial dinner on Wednesday in the Ohio Room of Kilcawley Center at YSU.
Recently, some members of the committee gathered to talk about the woman they admired. They were Jim Ray, retired director of Protestant Campus Ministry at YSU; Rick Shale, retired YSU English professor; Judith Stanger, retired educator; and Kristen Olmi, grants coordinator for the Mahoning County Sanitary Engineer Department.
All knew her in different ways. For Shale and Stanger, the connection was membership in the former First Christian Church, which merged with Boardman Christian and became Disciples Christian, and as an educator; Ray worked with her when she was a member of the campus ministry board; and Olmi, through the student United Nations Association and as a YSU graduate.
Olmi, the youngest on the committee and president of the Youngstown United Nations Association, admitted she might have perceived Smith as a "grandmotherly type" and nothing beyond. "I see her as a trailblazer ... you just have to look at the 'firsts' she accomplished," Olmi said.
"She had a career at YSU that will never be duplicated," Shale said of Smith's positions as an instructor, chairperson of the health and physical education department, in administration and finally, as director of Career Planning and Placement from which she retired.
"From a career standpoint, what she did was outstanding," Ray said of her work at the university. Her legacy also included involvement in community organizations and as a philanthropist. "She touched a lot of lives," he said, adding that so many "benefited from her generosity and friendship."
Ray recalled Smith was a "good go-between" among people and groups because she "knew everyone." "She connected people," he said while Olmi noted Smith networked before that term existed. "She really made a difference," Olmi said.
The Mary B. Smith Scholarship at YSU continues to benefit students.
Ray said the "friends" and those affiliated with the United Nations Association felt a memorial dinner was in order. "It's an opportunity for people who knew her to come together and celebrate her life and share memories," he said.
The event is planned the day before the date of the anniversary of the founding of the United Nations. The committee received permission from YSU to display a banner and plaque on the landing of the main stairway from DeBartolo Hall's second floor to the lobby in the College of Liberal Arts and Social Sciences. The banner features the words, "helping so many" and "celebrating a century in the Mahoning Valley" as tributes to Smith.
Olmi said the banner and dinner are ways to remember Smith "for her deep love of the Valley, YSU and the people here."
Olmi added "she had a passion for and dedication to" the Valley.
Ray said Smith "was a positive person." Shale said "she was a model for how we should behave." Her priority was the good of the community, they said.
"Her contributions are inspiring," Olmi said, adding even after she retired, she remained active almost to the end of her life. "She was part of the 'greatest generation,'" Olmi said.
Stanger said she believed Smith's "legacy is one of an open heart" because she helped so many students and the community at large.
"Her leadership was a good example for everyone," Shale said.