Race in the Mayoral elections; community theater review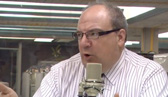 ---
VTR - Politics

Video Set
Vindy Talk Radio will be live at 8 a.m. with Louie Free.
In the 8 a.m. hour, Gregory Copley, president of The International Strategic Studies Association in Washington, D.C. will call in to the show. He'll talk about the Syrian poison gas stories and Pakistan's coming changes in relation to Afghanistan, as Russia and The People's Republic of China continue to dominate that region.
Police say 12 year old Rebecca Sedwick was relentlessly tormented by schoolmates for a year. Finally, Rebecca climbed to a tower at an abandoned concrete plant and leaped to her death. The sheriff of Polk County, Fla., Grady Judd, took the unusual step this week of arresting two girls, ages 12 and 14, on felony charges of aggravated stalking in the case. At 9 a.m., Sheriff Judd will chat with Louie to about the aftermath of the arrest.
Come 10 a.m., The Vindicator's editorial page editor Bertram deSouza will join managing editor Mark Sweetwood in-studio with Louie to discuss the racial tension in the upcoming Youngstown mayoral race.
Finally, at 11 a.m., the Vindicator entertainment guru Guy D'Astolfo will discuss community theater with Louie.
Go to vindy.com/radio to listen to the show live, or vindy.com/mobile/vindy-radio to listen from your smartphone.
Click here to listen to the show.
Vindy Talk Radio Studio: 330-333-4454