Mooney pulls away from Salem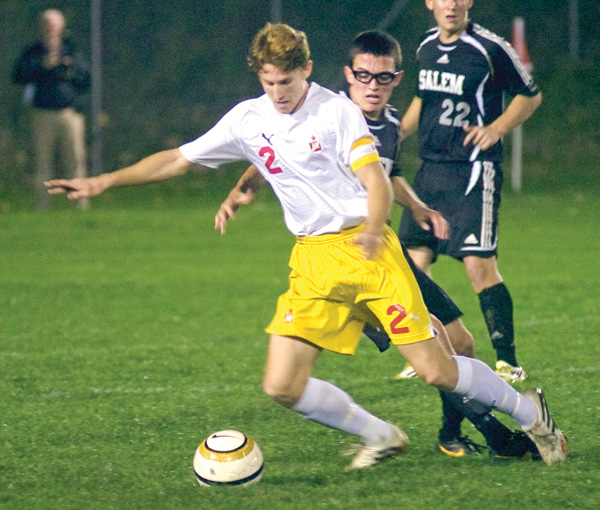 ---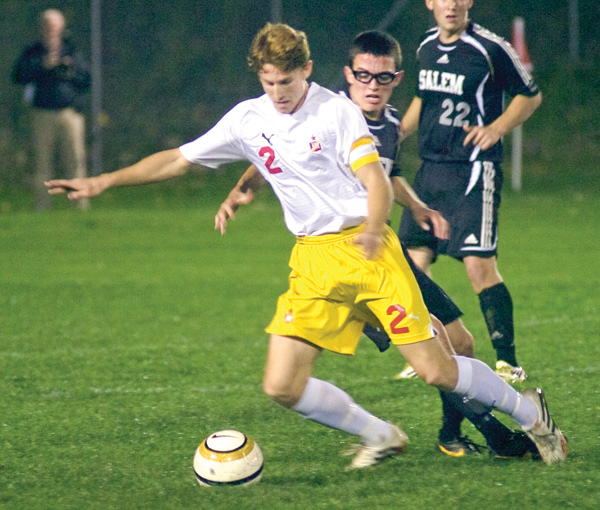 Photo
Cardinal Mooney's Clayton Walker fights to stay in control of the ball against Salem defender Mike Anzevino during a Division II sectional match Tuesday night. Mooney won, 6-0, and will meet Lakeview on Saturday night.
By Steve Wilaj
STRUTHERS
With just five minutes left before halftime, Cardinal Mooney coach Lou Cali Jr. glanced up at the scoreboard.
Noticing his team clinging to only a one-goal advantage, he made it loud and clear that the Cardinals needed to "pick up the pace."
"We have talked incessantly about how important the last five to six minutes and the first five to six minutes of every half are," Cali said. "I just felt I needed to remind them."
Message received.
Mooney scored a goal right before halftime and immediately after the break, leading the way to a 6-0 victory over Salem on Tuesday night in the first round of the Division II tournament at James J. Sr. Simon Park in Struthers.
"We really picked up the pace more," said Mooney's Nicholas Koken. "We moved the ball faster instead of dribbling and we really let the ball do most of the work, which paid off in the long run."
Koken scored two minutes after halftime on an assist by Kealin Dunstin to give the Cardinals (6-9-2) a 3-0 lead.
Meanwhile, Clayton Walker recorded both first-half goals. His score in the 11th minute was assisted by Mike Eggiman, while Myles Harris assisted Walker's 38th minute goal.
"We really moved the ball to the outsides well and played the flag," Koken said. "We've been trying to do it all season and it came through tonight."
Koken added another goal in the 54th minute, Chris Perry scored in the 60th minute and Chase Rose found the back of the net in the 69th minute. Mike Myers and Nick Tkacik each recorded assists for Mooney.
Salem coach Matt Freeman said the game got away from the Quakers (1-14-2) quickly in the second half.
"We struggled to mark and we started to get stretched out offensively," he said. "Mooney had some space to play into and they exploited it. So it was a tough second half after playing well for the first 35 minutes."
Cali said Walker's second goal of the first half was the turning point.
"It's all about survival now," he said. "The longer we allowed them to stay in the game, the longer they thought they could win. But I was happy with our performance. We played some good soccer tonight"
Mooney advances to play at top-seeded Lakeview on Saturday. The Bulldogs have defeated the Cardinals the past two years in the district finals.
"I know they have a few really good players, but we just have to play our best," Koken said. "If we play our best, I think we can come away with a win."
More like this from vindy.com