Published: Wed, October 16, 2013 @ 12:00 a.m.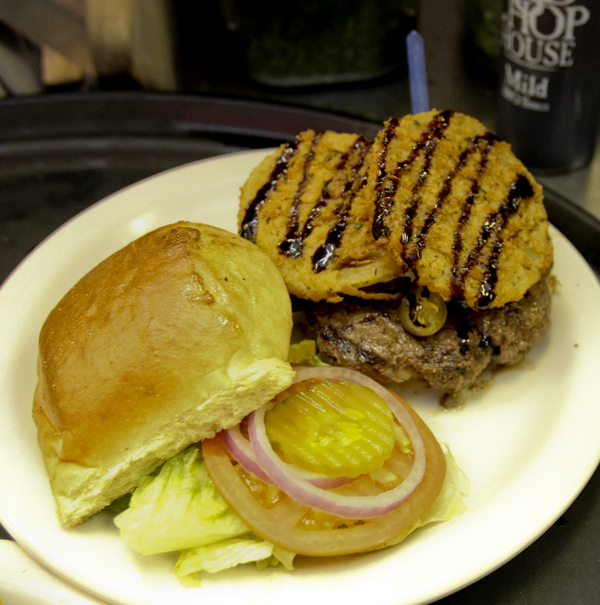 Photo
Fried green tomato burger at Montana's Rib & Chop House in Hermitage.
If You Go...
Location: Montana's Rib & Chop House
Address: 3176 E State St., Hermitage, Pa
Phone: 724-308-6220
Hours: Open daily at 11 am
Menu: 12 burgers ($7.99 - $11.99) Ask for the burger menu!
Website:www.hermitageribandchophouse.com
By Anthony M. Fuda
mvbrb@hotmail.com
Montana's offers laid-back, "Big Sky" burger
If you've ever been to Montana, or "Big Sky" country, you've taken a relaxing ride, looked up and saw sky for as far as you could see. If you looked hard enough you might have even seen a burger in the clouds.
Montana's Rib & Chop House originators Burke and Melissa Moran opened their first Chop House in 2001 in Livingston, Montana. Their success has spawned six more Chop Houses, which are each locally owned and operated.
There are two in this area. The Hermitage Chop House is owned by Tom Ristvey, who with his brother-in-law, also own a Montana's in Meadville, Pa.
Normally we don't review restaurant chains, but this is far from a normal chain. If Tom thought bringing a Montana's restaurant to the Midwest was a good idea, we had to see why.
Montana's Rib & Chop House brings big flavor and a laid back atmosphere to this area. It looks like a place where you would come dressed to the nines, but casual is the way to go here.
And the atmosphere really does carry over to the food. The burgers are twice marinated, with a very good seasoning. The flavor is great, and the beef just melts in your mouth.
Our waitress, Rachael McKinney, really added to our Montana experience with her fun attitude and jovial back-and-forth banter -- and she knew where the burger menu was.
We looked over the regular menu and found a Hamburger, Cheeseburger, and a Double Cheeseburger. Hearing there were more, we asked Rachael, and she pulled out the "Burger Menu" from her pocket, complete with eight very tempting burgers, and a Build-Your-Own option.
Now we were happy! The menu had a great half-pound assortment: Piggy Burger (with BBQ pulled pork and Bacon), Fried Green Tomato Burger (two fried green tomatoes with bleu cheese and a balsamic reduction), Mushroom & Swiss, Texas Burger (Swiss, BBQ sauce, beer battered onion rings), Chophouse Burger (a special rib seasoning and a special BBQ sauce), Yankee Burger (coleslaw, shoestring fries), Avocado & Swiss Burger, Hot n Crunchy Burger (hot and crunchy provolone cheese), and a Build it yourself Burger with cheese (You can add any three of these toppings: bacon, grilled onions, jalapenos, mushrooms, coleslaw, baked beans (yes), fried green tomatoes, avocado, pulled pork, shoestring fries, and lump crab).
The burgers are accompanied by lettuce, tomato, onion and pickles nestled nicely on a fresh roll, which was toasted perfectly.
You have your choice of fries, baked beans, soup or salad for your side. Some of us wanted to start off light and healthy, so we ordered salads, but we had a lone wolf who went with fries. When his fries came out we all grabbed one to see if we missed out on anything. The fries were thick and crispy with a light seasoning on them. Either item was a good choice.
We looked over the menu, and the burgers all sounded great. We went back and forth on what we wanted. When the burgers came out, we did our taste test and were more than pleased with our selections.
I had the Fried Green Tomato Burger minus the bleu cheese, but adding jalapenos. The flavor was amazing. It was cooked a perfect medium with a nice hue of pink in the center. The seasoning was great and each bite of the fried green tomatoes and mouth-watering beef overwhelmed me (in a good way) with a heavenly taste. The jalapenos added that little kick that I like. This is one of those burgers that goes on my list of "I have to have this again!"
Eric had the Hot n Crunchy Burger and said, "I was intrigued by the name. When our wonderful waitress Rachael described how the provolone was dipped in a special batter and fried, I couldn't pass up the opportunity to try it. I added jalapeños to my burger to keep with my streak of being the guy who eats the hottest burger, but did try the fried cheese by itself, and it was palette pleasing. The marinade that is used for the beef was very different and definitely added to the flavor of the burger. Coupled with the burger size being more than the bun, I can't offer anything but two enthusiastic thumbs up."
Scott went with the Yankee Burger and said, " I knew this was going to be good after the first taste. The beef was very tender and the coleslaw added a creamy bite to an already great burger."
JT chose the Piggy Burger and remarked, "What can I say? I love burgers. I love pulled pork sandwiches. This was 2 in one! The pulled pork was in a savory, tangy barbecue sauce that's flavor didn't overpower the deliciously seasoned ground round. Add crispy bacon? As Mr. Food would have said, Ooh, it's so good!"
"And a shout-out to our waitress, who's impeccable service and good humor set the stage for a very enjoyable evening. Thanks, Rachael!"
Spatman had the Texas Burger and said, "This half pounder was double marinated in the same spices as the steaks and ribs. It was served well done on a very tasty bun which held up nicely and was topped with swiss cheese, grilled onions, BBQ sauce and deep fried giant onions. I added Bacon. Lettuce, Tomato and Pickles and had a side of seasoned steak fries and enjoyed an excellent dinner which I gave a 4 1/2 out of 5 on my wet-nap scale. Great service and a good price made for a trip I will make again."
We would like to thank Tom for bringing the laid-back feel of Montana -- especially the burgers -- to our little neck of the woods.
Take a "Big sky" ride to Hermitage, Pa. and try one of these burgers, but MAKE SURE to ask for the special burger menu. Your taste buds will thank you -- in a Big way.
4 1/2 stars
Keep reading the Valley food section each Wednesday for the best food the Valley has to offer, and send your burger suggestions to mvbrb@hotmail.com. Like the Facebook page BurgerGuyz to keep up with all the latest burger news.