Youngstown mom continues care packages to son, troops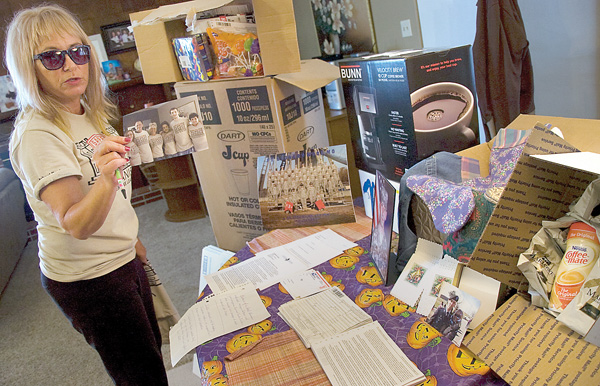 ---

Photo
Sandra Emmons of Youngstown shows a photo with members of her family wearing a T-shirt made to get the word out about Support Our Soldiers, a care-package program she started in May after her son was deployed to Afghanistan. Since then, she has sent more than 20 packages to her son, Army Pvt. Michael Bayless, and other military personnel.
By EMMALEE C. TORISK | etorisk@vindy.com
YOUNGSTOWN
Sandra Emmons' dining room table is stacked with boxes.
There's a box packed with a coffee maker, and paper cups and lids.
There's one stuffed with the past few weeks' worth of newspapers.
There's another filled with handmade Christmas stockings.
But even once the boxes leave Emmons' table at her Sierra Drive home, they'll remain together.
All are destined for Afghanistan, where Army Pvt. Michael Bayless — a combat engineer with the 87th Engineer Co., and Emmons' 23-year-old son — has been stationed since May.
Almost immediately after her son's deployment, Emmons devised the care-package program, which she named Support Our Soldiers, because she needed some way to keep herself busy and not constantly worrying about her son's well-being.
Plus,Emmons said, people too often forget there's still a war going on in Afghanistan.
"We can't forget our troops," Emmons said. "If it wasn't for them, we would not have our freedom."
Since May, Emmons has shipped more than 20 care packages to Afghanistan, where Bayless then distributes their contents to fellow servicemen and women. Each costs about $20 to ship, and Emmons likes to send one out every 10 days, so they'll arrive "back to back."
Their contents are varied, filled mainly with necessities — baby wipes, cotton swabs and toothbrushes — but also with items for down time, such as baseball gloves. All care packages are the product of donations from family, friends, neighbors and even area businesses, Emmons added.
One neighbor, Sam Fasline, said he donates to Emmons' care-package program because it's a "very worthwhile effort."
"I support the troops because I'm a veteran myself," Fasline said, adding that he served in World War II. "I have a feeling for these servicemen."
Emmons said, too, that she wants to make sure the troops aren't neglected during the upcoming holiday season. She plans to send them Christmas cookies, stockings bursting with toiletries, and even a small tree.
All holiday care packages must be shipped by Nov. 18 to ensure Christmas delivery.
"They sacrifice their lives for us," Emmons said. "They've got to have a little decoration, too, to keep them in the spirit."
Just a few months ago, Kelly Morocco, director of corporate client relations for Simon Roofing, suggested that the locally based business become involved with Support Our Soldiers.
After contacting Emmons, the project turned into an effort involving the company's more than 60 offices located throughout the country. Morocco said she anticipates a good turnout.
"Any time you've got somebody in harm's way and they're away from their families, you want them to have something to remind them of home," Morocco said. "They put their ultimate gift out for us, and they don't even know us. The least we can do is buy them foot powder."
Other businesses that have donated to Support Our Soldiers are Casal's de Spa & Salon, Catullo Prime Meats, Cornersburg Party Shop, Dunkin' Donuts, Gia's Pizzeria, Margie's Kitchen, Marlowe's Premium Coffee, Quench Bar & Grill, Santisi Wholesale Food Co., and Window World.
Before enlisting in the Army in March 2012, Bayless studied criminal justice at Youngstown State University, and graduated from Chaney High School in 2009. He's expected to be in Afghanistan for at least one year, and Emmons said she'll keep sending care packages to him until he makes his safe return home.
"When he comes back, he's going to go to every business and individual and thank them," Emmons said. "They didn't have to donate, but I am very thankful ... to my neighbors and family and friends and the community for supporting our troops and not forgetting what they do for us."
Bayless is the son of Sandra Emmons and stepson of Terry Emmons of Youngstown, and the son of Martin Bayless and stepson of Carol Bayless of South Carolina. He has a twin brother, Joseph E. Bayless; a 25-year-old sister, Jacqueline N. Bayless; and a 4-year-old nephew, Nicholas Bayless.