Poland utilizes literacy grant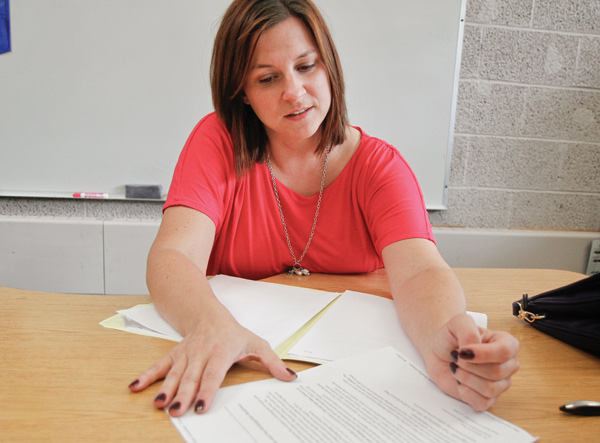 ---

Photo
North Elementary School teacher Mary Hernon explains the Ohio law on reading guidelines. She helped push for a reading grant from the state, which the district won.
By Kalea Hall
Poland
Starting this school year, Poland elementary schools will be using a state-funded program for literacy intervention from kindergarten to third grade.
The schools are able to use the program after being awarded a $100,000 state grant to purchase the program and for professional development to train staff at the school.
"Everything is built upon those early skills," said Tracy Kaschak, one of the grant writers and a teacher at North Elementary School in Poland.
Kaschak, along with Mary Hernon, a special-education teacher at North Elementary School, decided to apply for the state grant after the passing of the Third Grade Reading Guarantee, which focuses on school districts identifying which students need help with reading and getting them on track with their grade level.
Students who are not on track with reading by the end of their grade level could be held back just in reading.
To help school districts with the intervention, the Ohio Department of Education developed a grant application to fund multiple schools. The state handed out $13 million to fund the intervention programs.
In Mahoning County, Campbell received $119,600, Canfield received $75,000 and Youngstown City Schools received $100,000.
Kaschak and Hernon said they applied for the grant last December and were informed the schools received the grant in April.
The intervention program is composed of two parts. First, there is the bench mark program, which tells exactly what reading level a student is at. The second part of the program is called leveled-literacy intervention.
The leveled-literacy intervention is the actual part of the program where a small group of students sit down for 30 minutes with an intervention specialist or tutor and learn to read.
"Ideally, [the program] will bring a child on track in 18-22 weeks," Hernon said.
All of the elementary schools in the district, North, Dobbins and Union, will be using the program.
So far, three invention specialists and four tutors have been trained, and more should be trained in the future.
"I just thought it was such a great way to learn reading," Hernon said.