Neighborhood Harvest produces fun and goodwill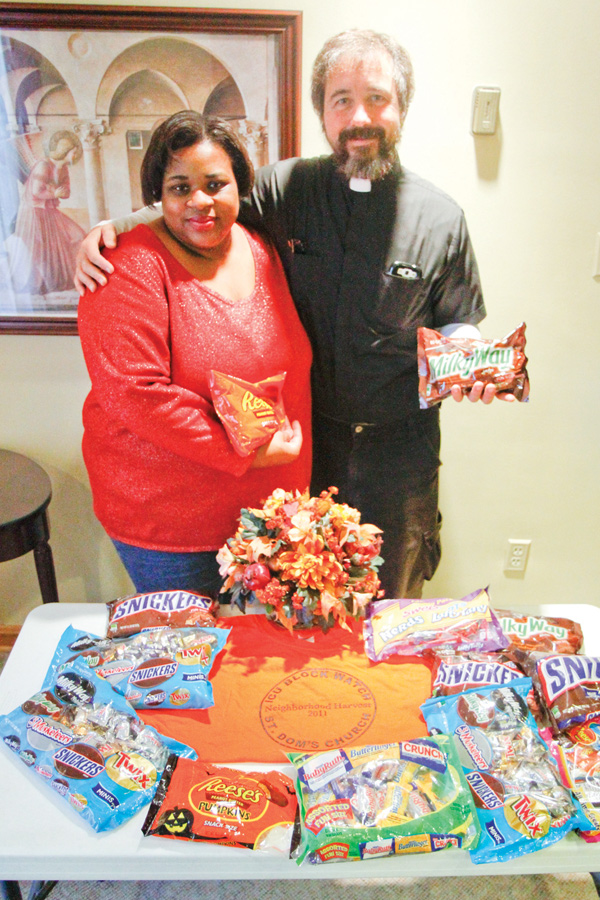 ---

Photo
Victoria Allen, president of ICU Block Watch, and the Rev. Greg Maturi, pastor of St. Dominic Church in Youngstown, show some of the candy being collected for distribution at the Neighborhood Harvest. The event is planned from 3 to 5 p.m. Sunday in the gated lot at the corner of Cottage Grove and Auburndale Avenue in Youngstown.
By LINDA M. LINONIS
Youngstown
The Neighborhood Harvest sponsored by ICU Block Watch, St. Dominic Church and Horizon Academy yields something intangible but valuable — it builds community.
That's how Victoria Allen, president of ICU, and the Rev. Greg Maturi, pastor at St. Dominic, view the event, now in its third season. It's planned from 3 to 5 p.m. Sunday in the gated lot at the corner of Cottage Grove and Auburndale Avenue.
Father Maturi credited Allen with the idea for the harvest-themed activity.
"I wanted to have a good activity in the heart of it all ... the neighborhood," Allen said.
She said she noticed people went out of the neighborhood and the city to attend such events and wanted to change that.
That happened about the time of Operation Redemption, the revitalization program on the South Side.
"That was more than demolishing abandoned houses," Father Maturi said.
Forty demolished houses have given way to green space of fields to play sports.
"It was focused on building up the community and the effort to renew and revitalize the St. Dominic area," he said.
The first year, Neighborhood Harvest overall attendance was 479 and the second, 679.
"This year we're hoping to give away 800 treat bags with 40,000 pieces of candy to children," Allen said.
Father Maturi described the event as a "Halloween alternative." He and Allen said the event provides a safe way for children to get Halloween candy without the possible dangers of door-to-door trick or treating.
"We have a safe, well- supervised event," Allen said, noting about 40 volunteers from the sponsors and community assist.
Allen said the event offers a lot of fun — with a bounce around and children being able to talk to police and fire personnel and see their equipment up close. The armored emergency response vehicle, "The Bear," is always a popular place to gather, she said. But it's not a free-for-all.
"The lot is gated so we can keep track of people coming in," Allen said, adding children younger than 18 must be accompanied by an adult.
She said the casual atmo-sphere of the event allows participants to interact with police in a "positive way." Allen said developing "relationships and rapport" with police is paramount to the success of the ICU Block Watch. "We want children to understand the police are here to help."
Allen and Father Maturi said city council members Janet Tarpley, D-6th, and John R Swierz, D-7th, contributed to the success of the block watch.
Allen said she and 24 volunteers "blanketed" occupied houses from Market to Shirley Road and Indianola to Midlothian with fliers about the event and fliers also were distributed at nine schools.
Allen said there's also information on the ICU Block Watch Facebook page, which links to the 7th Ward Citizens Coalition and Defend Youngstown.
St. Dominic also has it on its website, www.saintdominic.org, and Facebook.
Donations of snack-size candy and monetary contributions may be dropped off at St. Dominic Church, 77 E. Lucius Ave.
Volunteers will pack treat bags this week at the church.
"A good community activity will displace bad activity," Father Maturi said. "We want to build up good will."
Allen added the harvest event is "something positive" happening on a side of town not always seen in the best light.
Allen, a member of New Bethel Baptist Church, and Father Maturi agreed that the Neighborhood Harvest has "broken boundaries" among denominations as Catholics and Baptists and others of faith have united for a common cause.
Allen noted that the two churches collaborated on a summer camp.
Father Maturi said the partnerships have shown that "people aren't going to stand by and watch things die when they can do something about it."
Allen, a mother of three, said her motivation to be involved comes from her faith and her desire to make neighborhoods safe places.
More like this from vindy.com