Browns sticking with Weeden
---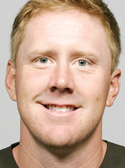 Photo
Associated Press
CLEVELAND
Brandon Weeden kept his starting job on his 30th birthday. Some might call that an undeserved gift.
Browns coach Rob Chudzinski said Monday that he is staying with Weeden as his starter despite the inexcusable interception he threw in the fourth quarter of Sunday's 31-17 loss to Detroit.
"This was one game," Chudzinski said. "I thought that Brandon played well in spurts and at times he obviously made critical mistakes.
"It's just not one guy."
With the Browns trailing 24-17, Weeden, trying to avoid being sacked while under pressure from Lions defensive tackle C.J. Mosley, inexplicably flipped the ball backhanded toward fullback Chris Ogbonnaya near Detroit's sideline. The shocking attempt was picked off by Lions linebacker DeAndre Levy, all but sealing Detroit's comeback win.
Weeden called the play "bone-headed."
Chudzinski didn't use that adjective, but he didn't think the gaffe warranted benching Weeden for backup Jason Campbell, either. In fact, Chudzinski said he and his staff did not even discuss the possibility of making a switch and Weeden will start Sunday in Green Bay.
"It's never just about one play or person to assign blame," Chudzinski said. "We all can be better."
So the Browns won't toss Weeden aside.
Weeden's mistake may have been Cleveland's costliest, but it certainly wasn't the Browns' only one. They were outscored 24-0 in the second half by the Lions, who capitalized on mismatches with running back Reggie Bush, forced Weeden to rush his throws and scored on four of five possessions after halftime.
Weeden is an easy target for media members and fans, but Chudzinski said there was plenty of blame to apply evenly throughout Cleveland's roster.
"Anytime you're talking about offense there's a lot of different people and moving parts involved and it takes 11 guys to be successful," Chudzinski said.