Youngstown mosque opens doors to open people's minds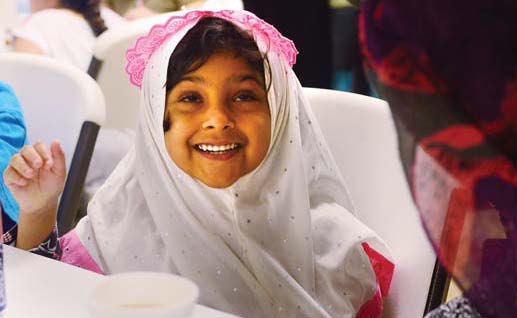 ---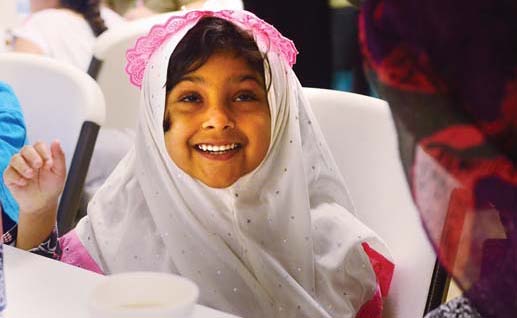 Photo
Zainab Rehman, 4, of Boardman, is excited as her mother puts on the scarf she purchased for her at an open house at the Masjid Al-Khair mosque in Youngstown on Sunday. The open house was the mosque's fifth and showcased a variety of ethnic foods, customs and information on Islam.
By Sean Barron
YOUNGSTOWN
Azka Malik doesn't do embroidery, but you might be hard-pressed to tell, given the colorful assortment of handicrafts from Pakistan surrounding her.
"My mother used to embroider a lot," said Malik, public-relations officer with the Masjid Al-Khair mosque, site of Sunday's fifth annual open house.
The four-hour gathering at the mosque, 1670 Homewood Ave. on the South Side, showcased a variety of ethnic foods, customs and information on Islam, a religion many feel is still largely misunderstood and maligned.
The event also brought together people of all faiths to better educate them about the Muslim faith, noted Naim Rasul, a mosque member.
The Islamic Society of Greater Youngstown hosted the festivities.
Malik, who came to the area 22 years ago from her native Pakistan, had for sale numerous hand-crafted shawls, scarves and other items, the proceeds from which are to benefit the mosque. Assisting Malik was her 18-year-old daughter, Amina Malik, a Youngstown State University student.
Similarly, Montaha Hamdan of Boardman had a large assortment of silk and wool hajabs (head and shoulder scarves) she sold for $5 to $15, along with decorative and traditional dresses, all of which are commonly worn in weddings.
"When you cover your hair, you need something pretty on top of it," explained Hamdan, a first-grade teacher at the Islamic Academy of Youngstown and a Sunday school teacher at the mosque.
Hamdan said she was pleased to see visitors of many religious faiths and nationalities at the open house.
Many attendees also were pleased to partake of the multitude of ethnic meals that included bhel puri choat (an Indian dish consisting of crispy tortillas with chick peas, potatoes and yogurt), chicken biryani (yellow rice and chicken), samosas (triangular fried egg rolls filled with meat or potatoes) and couscous (a Libyan staple that includes vegetables and meats). Also on hand were several containers of tebuleh made from ground parsley, bulgur and tomatoes combined with lemon juice.
Those with a bit of a sweet tooth or less of an appetite probably sought desserts and other lighter fare such as grape leaves, egg rolls, chicken wings, kibeh (small oval grounded-wheat foods stuffed with beef and fried in oil), hummus, spinach pies and goraibeh (light-colored S-shaped pastries).
Other merchandise included cotton hand-embroidered shawls, mail pouches and cushion covers from Pakistan, as well as ceramic bowls and a set of small coffee cups from Turkey.
On another table was a series of books, pamphlets and DVDs on Mecca and Medina, the prophet Muhammad, the hajj (the Muslim pilgrimage to Mecca that's also the world's largest annual Muslim gathering) and other aspects of Islam.
Performing free blood-pressure and glucose screenings was Dr. Afreen Moonda of Canfield, who works for Trinity Health System in Steubenville.
The mosque's Rasul said he thinks a greater number of people better understand that extremists were responsible for the Sept. 11, 2001, terrorist attacks, and that the 19 terrorists distort instead of represent true Islam.
"We don't believe in violence at all," he added.
In addition to the Muslim faith, extremism runs through Christianity and other mainstream religions that condemn violence and fanaticism, noted fellow mosque member Wally Atway.