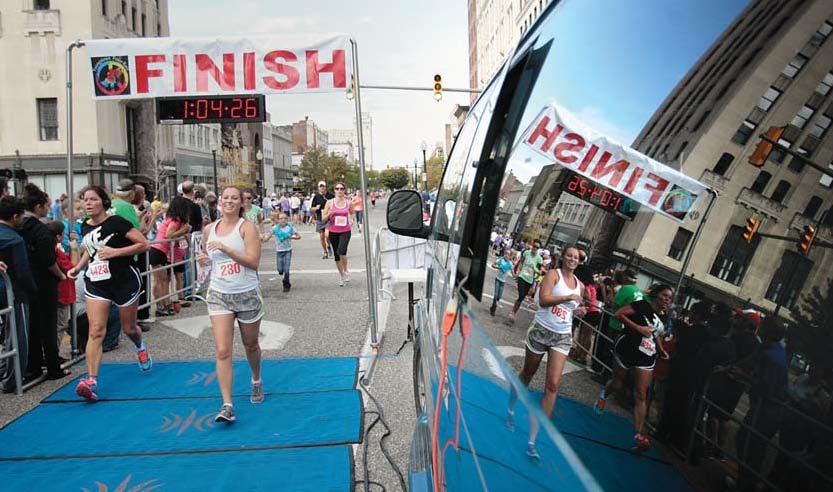 ---
39th Youngstown Peace Race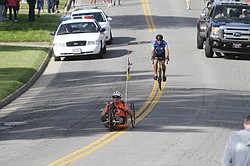 Gallery
Kenyans Muturi, Biwott set the pace for Youngstown's 39th Peace Race
By Kevin Connelly
On a beautiful fall afternoon in Northeast Ohio, it appeared Elijah Muturi was out for a casual jog through Mill Creek Park and into downtown Youngstown.
Then, less than 100 yards from the finish line of the 39th annual Peace Race, he began to swing his right arm in circles as if he were Pete Townshend playing a guitar.
"When I'm running, I'm singing some music inside my head," Muturi said of his air guitar show.
Perhaps on Sunday afternoon, the Kenya native was channeling his inner Bruce Springsteen, or better yet Tom Petty as Muturi was running down a dream en route to a comfortable victory in the 6.2-miles race.
His time was 29:13.2.
"I love music," he said. "Every time I run, I sing songs inside my head because they give me the strength."
His music must have picked up a beat, as he pulled away from his fellow countryman Boniface Biwott after the four-mile marker.
Biwott finished 30 seconds behind Muturi to take second place.
Ryan Kienzle of Canton finished in third with a time of 30:31.3. Kienzle was coming of a recording-setting performance in the Akron half marathon, but said he couldn't keep up with the two leaders.
"I think every time I've come here, I finish third, he said. "I've been more in half-marathon mode, but it's always nice to come out here and get a solid 10k in so I'm happy with that."
He was one of many participants from Ohio who fared well. Jessica Odorcic, from Madison, ran a personal best of 33:35.3 and was the first female to cross the finish line.
"It's a great course and everyone running it is just so good," she said.
Odorcic is a 2016 Olympic qualifier in the marathon distance and is encouraged with the improvement she's seen in her training.
"It's just crazy," she said. "Since I've started running with my coach, I've set all new [personal records]. I run faster than I did in college, and I never thought I would, but it's just great having a coach that knows your body."
She said the Peace Race will be her last competitive race this year, but her 2-year-old at home will keep her running around until she starts back up again next year.
Ted Rupe is in his 22nd year as race director and continues to be amazed at the community involvement the race brings.
"With so many local runners, we're able to give a lot of money away to local charities," he said. "And it promotes downtown Youngstown, so it's a win-win for everybody."
This year's event had just fewer than 2,000 total participants between the 400-meter kids run, the 2-mile run/walk and the 10k race. The feature event hosted four Kenyans, a Russian and a New Zealander, as well as elite athletes from around the country.
"Incredible times," Rupe said of the winners' sub-30 minute finishes. "I mean those are world-class performances that we got to see right here in Youngstown.
"That's what I love about this — we get the whole spectrum of everything."