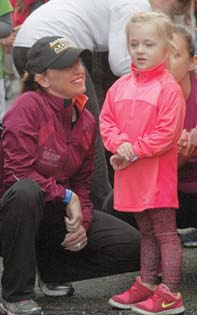 ---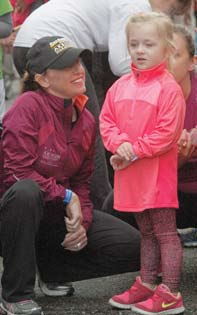 Photo
Madison Medvec, 4, of Struthers gets a pep talk from her aunt Terri Hrina-Treharn at Sunday's Peace Race. The day started with a 400-meter kids run at 9 a.m. and was followed by a two-mile run/walk that had 619 participants. In all, more than 2,000 participated Sunday.
By Kevin Connelly
YOUNGSTOWN
Spectators lined West Federal Street downtown Sunday afternoon eagerly awaiting runners to reach the final quarter-mile of the 39th Annual Youngstown Peace Race.
Some younger fans were holding signs encouraging Mommy and Daddy; others were preparing to run the final stretch with the participants, but all were cheering loudly for the more than 1,000 runners who took part in the 6.2-mile race through Mill Creek Park.
"This race was very good to me," said 27-year-old Elijah Muturi of Kenya, who won the event with a time of 29:13.3. "Very nice weather, good people cheering everywhere — they gave me the strength."
On Sunday, runners didn't have to win, or set personal bests, or even run to feel the encouragement of all who made their way to downtown Youngstown's Central Square and other areas around the course.
The day started with a 400-meter kids run at 9 a.m. and was followed by a two-mile run/walk that had 619 participants. Despite a forecast for rain, showers held off until after the event and glimpses of sunshine even peeked through the clouds throughout the day.
Just under 2,000 participated in this year's Peace Race, and those who were there enjoyed what race director Ted Rupe described as a win-win for everybody.
"That's the cool thing about it," Rupe said. "It's not only a great community event, but you get the international runners, too.
"It's become an international event, but we still have a lot of local flavor and we really like to emphasize that."
This year's race featured four Kenyans, a Russian, a New Zealander, and elite athletes from Michigan, West Virginia, Alabama, Kentucky, Pennsylvania, and, of course, Ohio.
"Coming out here and being from Ohio, and having such an elite race and elite field, and still knowing everybody here is real special," Canton native Ryan Kienzie said. "Just staying near your hometown and supporting it — it's definitely really special."
Brett Clingan of Champion was just one of the many who took part in this year's 10k race, but he was the only one who didn't run it.
Clingan suffers from a rare neurological disorder called adult-onset adrenolukodystrophy with ataxia that has taken away his ability to walk. But Clingan says it will never take away his ability to be active.
He participates in the National Veterans Wheelchair Games every year and feels like it's a great way to keep his mind young. Clingan, who resides in Champion, also wants to see more people with disabilities participating in next year's race and is going to take it upon himself to do the recruiting.
"I wanted to spark that fire and get some disabled individuals in there," Clingan said. "I'm going to see if I can get some more guys to come and participate next year."
Rupe used to be Clingan's cross country coach at Maplewood and was actually the one who asked his former student to participate in the event.
"It's an amazing story," Rupe said. "He's a very inspirational guy. He never says, 'I'm worried about this or that.' Every time I talk to him he's just happy to spend another day."
The inspiration behind the Peace Race also hit home for Clingan. After serving nearly 18 years in the Army, he said it was a no-brainer to accept Rupe's request.
As with any event of this magnitude, its success can be attributed to the countless volunteers who gave their time Sunday afternoon.
"That event was so well-organized," Clingan said. "Things really ran smoothly, and it wouldn't have gone that way without the volunteers."