In the Schrock family, twins are dually noted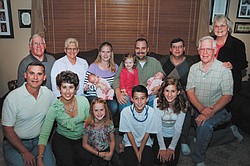 Photo
Members of the Schrock family include, front from left, Michael and Michelle Schrock with their three children, Allison and Adam, both 9, and Madison, 12; and David Schrock. In back are, from left, Don and Debbie Schrock; Dawn and Rick Laslow holding their three children, Alyssa and Alonna, 10 weeks, and Danielle, 2; and Jackie Schrock. Photo by MADELYN P. HASTINGS I THE VINDICATOR
By Sean Barron
CANFIELD
Fred Schrock finds it difficult to keep a straight face when he recalls the time he and his twin brother, Don Schrock, got together in Japan and decided to play a practical joke on their parents.
In 1965, Fred and Don, both of whom were serving during the Vietnam War in the Army and Air Force, respectively, switched their uniforms, then sent a photograph of the mismatched young men home to see whether their parents could tell who was who.
"They couldn't," Fred said with laughter. "We got home and finally told them."
That was one of several anecdotes the two 69-year-old identical twins shared recently. Arguably, another notable story surrounding the brothers is their family itself.
Fred and Don Schrock are one of five sets of twins who make up several generations of the Schrock family. The other four sets are fraternal twins that include 2-month-olds.
Don and his wife, Debbie, of North Jackson, have a son, Michael Schrock, whose 9-year-olds, Adam and Alison, are fraternal twins. In addition, Michael and his wife, Michelle, have a 12-year-old daughter, Madison, a Canfield Village Middle School seventh-grader who also teaches dance classes.
Michael's sister, Dawn Laslow of Boardman, is a fraternal twin who has 2-month-old twins, Alyssa and Alonna. Dawn's twin brother, who didn't want to participate in this story, has 5-year-old twins.
Several family members recently shared a variety of stories at Michael and Michelle's Willow Bend Drive residence.
Fred Schrock, who was an Army medic, serves as commander of the Ellsworth-based Veterans of Foreign Wars Post 9571, chairman of the Ellsworth Zoning Board and as a pastoral-care minister with the Mineral Ridge Church of Christ. Also, Fred and his brother, who works for Fab Limousines Inc., retired from General Motors Corp. in Lordstown.
In addition, the brothers share a close relationship in a close-knit family.
"We've been close all of these years," Fred said, adding: "When we would get haircuts, our dad didn't know which was which."
Also enjoying a close bond, along with diverse personalities, are Adam and Alison, both of whom attend Hilltop Elementary School in Canfield.
"People sometimes come up to us and say, 'You're brother and sister?' and I'll say, 'We're twins' and they'll say, 'What?''ä" explained Adam, who enjoys playing football and soccer and who, unlike his sister, has dark hair and is more introverted.
The two have their own sets of friends and interests, though their commonalities include taking piano lessons and being responsible for their guinea pigs, said Alison, whose busy schedule features gymnastics, dance and cheerleading. Both also look up to older sister, Madison, who carries a 4.0 grade-point average.
Both youngsters laughed when Michelle, a first-grade teacher at Howland Springs Primary School, related the story of how Adam and Alison's principal mistakenly thought the children were two grades apart because of the difference in their heights. Their physical sizes, notwithstanding, though, the children's uniqueness is a blessing, added Michael Schrock, vice president of human resources for First Place Bank's Boardman branch.
"It helps you see how individual everyone is," he said about being the father of twins. "They're created special, and that's the way they are."
Laslow and her husband, Rick Laslow, a systems administrator with GM, feel the same about their 2-month-old babies, though they keep Dawn Laslow quite busy, she said.
"It's very interesting, and even more so when you have two of them," she said in describing a typical day as a homemaker.
Making things a bit easier, however, is the Laslows' 2-year-old daughter, Danielle, who assists with certain chores, Dawn added.
So, what is one of the busiest times of the year that keeps the Schrock family on overdrive?
"There's a nine-day period in May that includes Mother's Day and six birthdays," Debbie said with a chuckle.