Family, friends mark 50th event with the Jursas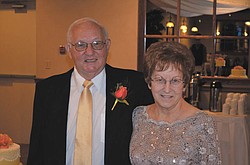 Photo
Mr. and Mrs. Raymond Jursa
AUSTINTOWN
Raymond and Estella Jursa of Austintown celebrated the 50th anniversary of their wedding at a luncheon with family and friends Sept. 22 at Blue Wolf Catering in Boardman.
Their children and their spouses, Jeffrey (Shannan) Jursa of Austintown and Karen (Spencer) Twyford of Columbus hosted the festivities.
The Jursas also have five grandchildren: Evan, Morgan, Madison, Noah and Drew, who attended the celebration.
Mr. Jursa and the former Estella Seruga were married Sept. 21, 1963, at Holy Name Church in Youngstown.