Trolio qualifies to the Diamond Team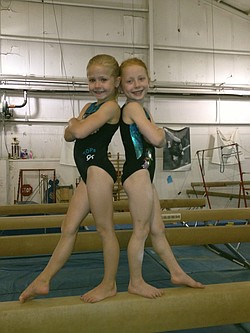 Photo
Neighbors | Submitted.Giana Trolio was named to the Diamon Team, and Alyse Karenbauer qualified for National Testing.
USA Gymnastics, the governing body of the sport of gymnastics in the United States, conducted it's annual state Talent Opportunity Program Selection (TOPS) testings across the county.
The TOPS program is designed to identify young gymnasts who have the ability to excel in the sport. Through a series of tests, the girls compete for an invitation to a special camp to work with our National Training Staff at the Bela Karolyi's ranch in Houston, Texas.
There were approximately 3,000 girls from across the country, ages 7-10 years-old who participated in the tests. Approximately 280 8-10 year-olds will participate in the National Testing at the National Team Training Center, in Houston, on Oct. 12 and 13. The 7-year-olds (the youngest of the testers), will not travel to the training center, but will instead be named to the TOPs Diamond Team and receive a National Team Warm-up.
Giana Trolio of Boardman qualified to the Diamond Team and Alyse Karenbauer qualified to the Naitonal Testing.
Both Trolio and Karenbauer train at Youngstown Gymnastics Center in Boardman. They are coached by head coach Sandy Sabo and Chad Cleland, along with other support staff at YGC. Trolio is a first-grade student of West Boulevard Elementry school in Boardman.
Not only are these young girls showing excellence in their gymnastics training but also in their school work. The girls train an average of more than 18 hours per week in the gym and maintain excellence in their school work. Their coaches say they are very dedicated, hard working and very focused for their young age and show some very promising futures in this sport.
In the state testings, the gymnasts perform physical abilities tests including pull ups, leg lifts, flexibility, sprint, rope climb, vertical jump, cast handstands and press handstands. The 8-10 year-olds must also perform a list of basic skills on each event. The top 100 or so are called to perform these test again at a National Testing then the scores are tallied and the top 20 or so gymnasts in each age division are named to the TOPS National Team and invited to a special training camp at The National Team Training Center in Houston, Texas in December.
Youngstown Gymnastics Center is owned by Scott and Michelle Meli and is located at 5500 Market St. in Boardman. For more information on its gymnastics program, call 330-782-5629.