SJIHM hosts Fear Factor challenge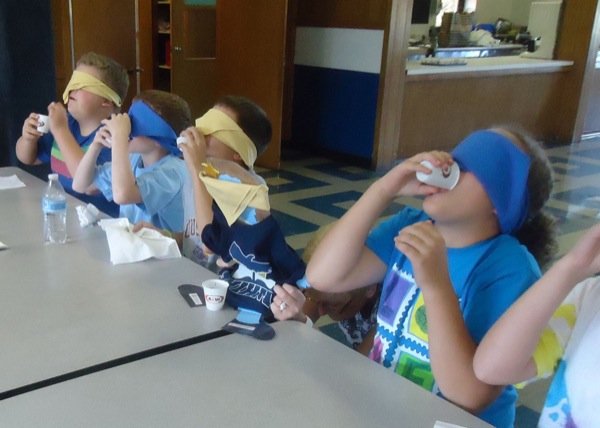 ---
As part of the newly formed Lumen Christi Catholic School System, St. Joseph Immaculate Heart of Mary School (SJIHM) in Austintown will be having a new student visit each week of the school year. In the spirit of "Flat Stanley" and "Where's Waldo," the Lumen Christi Catholic Schools will have a member of the Bright Family attend each of the six elementary schools and three Early Childhood Learning Center sites in the system for a week at a time. MaryJo Bright is the member of the Bright Family affiliated with SJIHM.
MaryJo started her journey at SJIHM on Sept. 23. As with all the Bright children she attended classes, rehearsals and sporting events with the students of SJIHM. The fifth-grade class invited her to their Fear Factor Challenge. Dana Vlock, science and fifth-grade homeroom teacher, integrated health and science by challenging the fifth-grade class to taste different fruits and vegetables modeled after the game Fear Factor. These challenges involve nutrition, teamwork, how the taste buds are configured on tongue and how your senses work together. In order to participate, students had to study the importance of good nutrition, how it relates to the body. They also had to chart the class's consumption of fruits and vegetables. Once they reached 342 fruits and vegetables eaten the Fear Factor Challenge could occur.
Two teams of students had to guess foods while blind folded, receiving a point for each correct guess. Students had to use their sense of taste, touch and smell to guess what they were eating. Students found out that guessing the food (avocado, sweet potato, kiwi, cauliflower, grapefruit and candy onion) was not as easy as they thought it would be. Two other teams had to eat a predetermined amount of different foods (asparagus, beets, spinach, artichoke hearts, pomegranate seeds and brussel sprouts) they had not before tasted. Some students were able to complete this challenge, while others were not.
MaryJo took the opportunity to participate in both events. She even found some new foods that she liked.
"That was actually a lot of fun. I really had fun!" Nicholas Leskovac said.
Through it all, the students had fun learning about different nutritional foods and how their senses work together while they are eating.
They are looking forward to the next Fear Factor Challenge, with a goal of 396 fruits and vegetables eaten.