Little Falcons take on Howland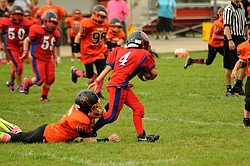 Photo
Neighbors | Submitted.An Austintown Little Falcons player is shown escaping the hold of a Little Tigers player at the game Oct. 6.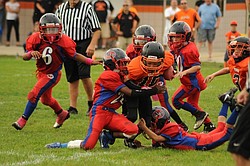 Photo
Neighbors | Submitted.A group of 100 pound Little Falcons players are shown stopping a Little Tigers player at the game Oct. 6.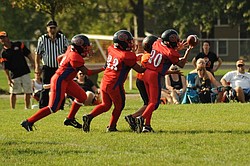 Photo
Neighbors | Submitted.Austintown Little Falcons player #20 is pictured making an interception at the game against the Howland Little Tigers Oct. 6.
The Austintown Little Falcons took on the Howland Little Tigers Oct. 6 at Howland Middle School Field.
In the 100 pound game, the Falcons defeated the Tigers 34-0. It was another great team effort by the Falcons as they finish regular season play by raising their record to 6-1 while handing the Tigers their first loss of the season. Terrance Pankey led the offense with touchdown runs of 58-, 60- and 20-yards, Cameron Smith ran for a touchdown, tacked on a conversion run too, while Noah Thomas added a touchdown run. Capping the scoring was Sam Savo with a conversion run. Aiden St. Clair recovered a Howland fumble, Pankey, Savo, Smith, John Cambert, Kyle Mosser, Donovan Hileman, Brody Pugh and Reuben Traylor Jr. contributed stellar play on defense to help keep the Tigers off of the scoreboard.
The Falcons will match up against Canfield at Struthers High School Stadium at noon on Oct. 13 as they play in the first round of the Y.A.C. League playoffs.
120 pound Falcons were toppled by the Tigers 28-0. The team played hard to the final whistle, but they just could not dent the scoreboard. C. J. Schisler, Myles Pasley, Clayton Marcum, Ja' Reion Young, Michael Tul, Anthony Sandy, John Edmonds, Dominic Hileman and Lucas Davis played well in defeat. The Falcons will play Boardman at Howland Middle School Oct. 13 as they start the league playoffs.
The 140 pound Falcons claimed a 44-0 victory over the Tigers. Team play was on display as the Falcon ended regular season play with a fine 6-1 record.
Christopher Scott led the offense with two touchdown runs and a conversion run. Drew Bretsik ran for two touchdowns while Richard Edwards, Logan Italliano and Bryson Gay all scored touchdowns to complement the attack. David Gunger, Phillip Albenze, Daniel Schmitt Jr., Cedric Ross, Michael Wilson, Christian Davis, Ty Burnip and Tyler Barnes all played well on defense to help shutout the Tigers.
The Falcons will play at Fitch Falcon Stadium Oct. 13 as they will face the Hickory Hornets in the first round of the playoffs.