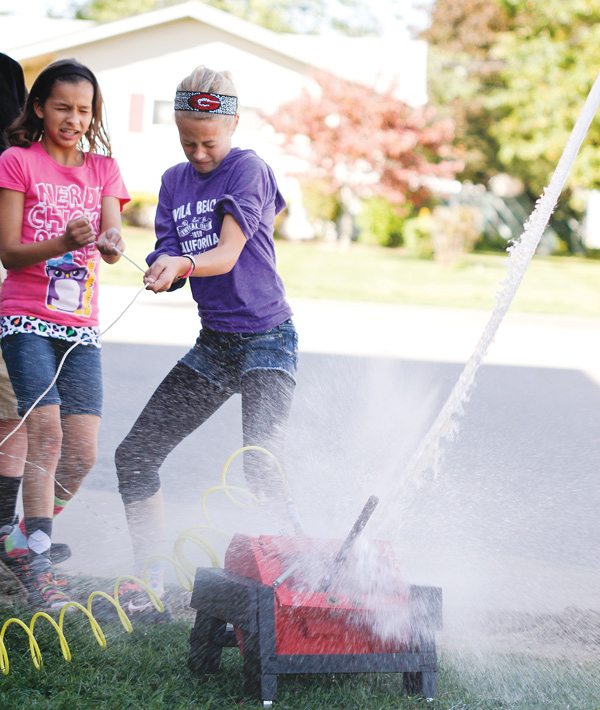 ---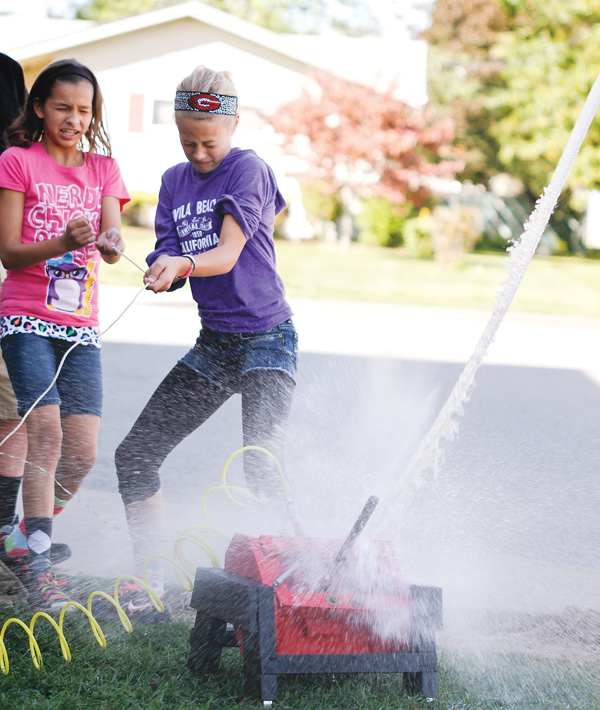 Photo
Girard Intermediate School fifth-graders Brooke Kennedy, left, and Kayley McConnell shoot off a bottle rocket Thursday during a regular meeting of the Bottle Rocket Club.
By Jeanne Starmack
GIRARD
Under a tree right outside the doors of Girard Intermediate School stood an unassuming, mild- mannered group of kids.
In their midst was Gary Orosz, an intervention teacher who helps students with their science homework and experiments.
The scene was peaceful; these kids are there every Thursday after school, talking and laughing under Orosz's calm guidance.
What little science experiment was this now? Something cute to do with plastic 2-liter bottles, water, air and duct tape?
Suddenly there was a loud whoosh that would make anyone not expecting it want to duck and cover. Shooting toward the blue sky above the school parking lot was one of those bottles. It arced up then curved downward, crashing nose first into the grass near the playground. Two kids immediately ran after it with a measuring string.
It took five seconds, and in that short time it became apparent: This experiment was beyond cute, and this was no ordinary group of kids.
This was the Bottle Rocket Club — launching rockets and aiming for a better understanding of physics and engineering.
"If you get over 300 feet, you get to be on a chart," said fifth-grader Bella Alejars as she and other club members explained how to make the rockets.
Two 2-liter bottles make up the body of the rocket, and a 16-ounce water bottle becomes the nose. Inside the nose, you put a payload of 45 pennies and distribute them evenly. You cover the whole rocket with as much duct tape as you want — "tons and tons," said fourth-grader Julianna Hornikel. Then you make it some cardboard fins and tape those on as well.
The pennies have to be evened out or the rocket won't fly straight, Orosz said. The fins have to be aerodynamic, too, he said. Squared-off fins may look cool, but the rocket will wobble.
Once it's finished, your rocket is off to the launcher, which Orosz built with a design he found on the Internet.
Twenty-four ounces of water in the bottle and 80 pounds of air pumped in with a compressor is the magic formula for the blast-off. It was carefully calculated, Orosz said, so the rockets don't travel much beyond 300 feet and into people's yards across the street. After all, not everyone wants to sacrifice a kitchen window for science.
Why do it?
For the learning, specifically of Newton's laws of physics, Orosz added.
Some children are not only learning, but they're going for the glory. Fifth-grader Audrey Graham's rocket traveled 344 feet, so she'll get her name on the chart of fame.
Some are just having fun. "I just like to launch things," said sixth-grader Haeden Gump.
"Blowing stuff up — boys like that," added sixth-grader Adam Whitfield.
The club also teaches dedication and perseverance, because the members have to give up recess while Orosz helps them make their rockets.
"But it's worth it," said fifth-grader Hunter Barela.