Jim Antell celebrates 50th year as choir director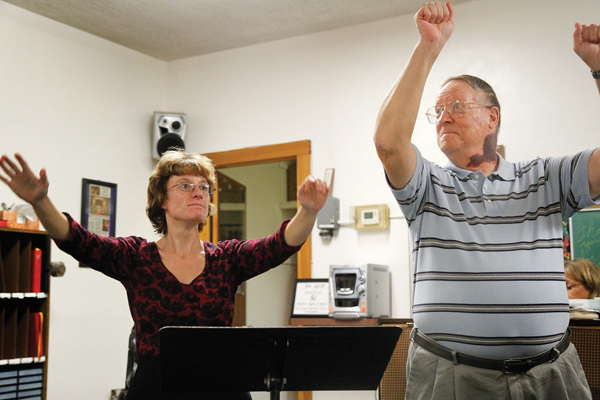 ---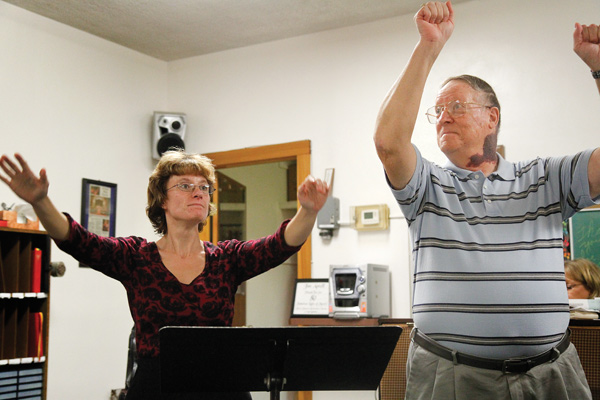 Photo
Jim Antell, choir director at Girard First United Methodist Church, and his daughter, April Antell Tarantine, who directs the choir in her father's absence, take the choir through a recent rehearsal. Antell has served 50 years as choir director at the church.
By LINDA M. LINONIS
GIRARD
Jim Antell has devoted 50 of his 70 years as choir director at Girard First United Methodist Church.
He personifies the advice from Confucius: "Choose a job you love, and you will never have to work a day in your life."
"This isn't just a job; this is my church family," he said, speaking from the heart about his role. The church newsletter noted Antell has directed the choir on about 2,000 Sundays.
"I've loved my job," said the retired teacher, who spent 31 years as a music educator, mainly in Austintown schools.
Antell said one of his professors, Jim Elson, at Youngstown State University's Dana School of Music recommended him to the church, which had called Elson about the position.
"I was 19," Antell said, and recalling he told Elson he didn't have the experience. The professor thought otherwise, Antell said.
After a tryout, the church committee hired him, and the rest is church history and Antell's legacy.
"My pay was $10 a week. I directed the choir rehearsal and was there Sunday mornings," Antell said. The choir takes a summer hiatus, Antell said, and he offered to arrange music for that season and continues that tradition.
Glenn McCoy and Dolores Colaprietro were choir members in his early years; though still church members they no longer sing in the choir. For Antell's 40th observance, McCoy sent him a letter of appreciation, a treasured memento he keeps in a bulging scrapbook.
To mark his 50th year, the church hosted a "roast." "It was a lot of fun," said Antell. The church took a leap of faith hiring such a young person, he said. "I've developed many friendships over the years," he said.
The choir director said his musical talent was "God's way of showing me what I was to do." "I started singing when I was 4 years old," Antell said, noting he didn't come from a musical family. But he and his sister, Janet Secrist of Austintown, often performed together.
Antell said his choir directing position "was a dream come true," and his goal has been to consistently select interesting and faith-based selections. He said he always wanted to present "quality" programs. The choir has had as many as 45 members; currently the number is about 30.
"The challenge is keeping people coming," he said. "We have a wonderful men's section now."
Antell has two requirements for music he selects. "It has to have a message and good music with the message," he said.
Antell said church music has undergone a transformation. When he first started directing, he said it was difficult to find good church music aside from the standards. In the late 1960s, more music became available. "Sing Out a New Song to the Lord" was written by Don Besig and dedicated to Antell for his 40th year of service.
Antell said he takes pride in the choir festivals that the church has hosted. The Girard church was chosen as the site to premiere the Stained Glass concert series with Youngstown Symphony Orchestra.
Part of the credit for his success goes to a good working relationship with organist Bonnie Hood and the Rev. Betsy Schenk, pastor. He coordinates the music to complement the pastor's sermons throughout the year. His library holds some 500 anthems from classical to contemporary.
"Music is a gift from God," he said, adding his own faith plays a role in his music choices. He and his wife, Carol, are longtime members of the church.
When the Antells spend January through April in Florida, their daughter, April Antell Tarantine, fills in as choir director.
"He's passed on a love of all music and a love of good, choral music," she said of her father. "I've learned a lot about directing from him, and he's fun to work with."
The Rev. Ms. Schenk said Antell matches the anthems to underscore themes of services and her sermon messages. "It makes it cohesive," she said. "The choir is a real asset to the church."
The pastor said Antell's choice of music "sets a spiritual tone" and is "an anchor of the church."