City pumpkin grower prepares for weigh-off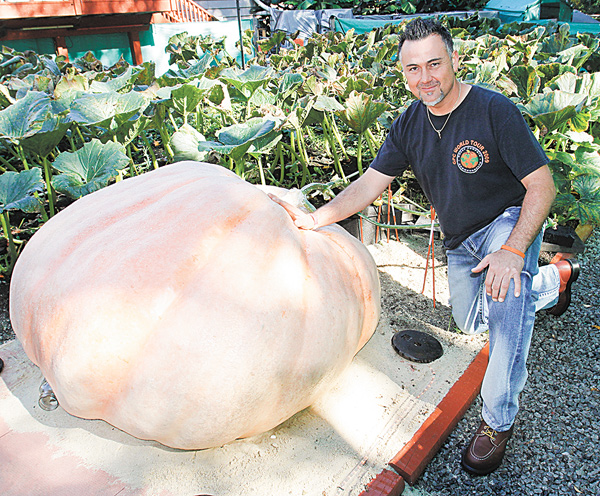 ---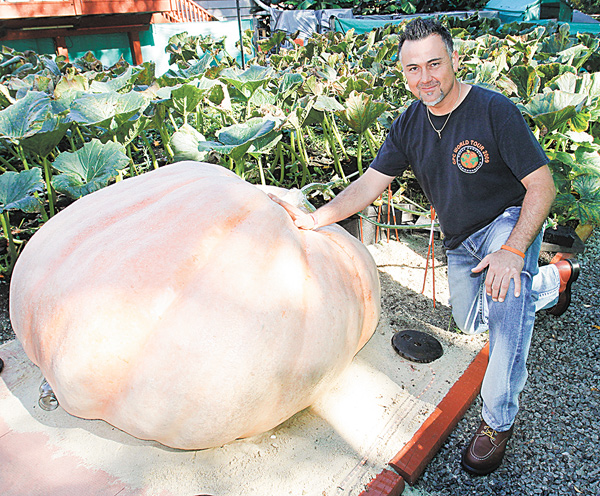 Photo
Vince Cappitte of Girard shows off his nearly 1,000-pound pumpkin. He will enter it at the Parks Garden Center weigh-off Saturday.
By kalea hall
CANFIELD
When Vince Cappitte started to grow his pumpkin for this year's pumpkin weigh-off at the Parks Garden Center, he knew he wanted to go big — and he wants to go even bigger next year.
"I want to bypass 2,000 pounds and go right for 3,000 pounds," Cappitte said.
Cappitte's 1,000-pound pumpkin is just one of the massive pumpkins competing at the annual weigh-off Saturday at the garden center, 9010 Youngstown-Salem Road.
Pumpkins will start being weighed at 10 a.m. Saturday at the garden center. The weigh-off ends at 4 p.m. There also will be sunflowers, gourds, giant watermelons and jack-o'-lanterns on display.
The weigh-off began in 1995, and since then pumpkins have been getting bigger and bigger. The Ohio Valley Giant Pumpkin Growers bring in pumpkin growers from across the state and elsewhere to show off their mammoth creations. The first year the record weight was 816 pounds. The current weight to beat is 1,725 pounds.
"When you are growing something and it's growing between 40 to 50 pounds a night, I guess you get hooked," said Tim Parks, garden center owner.
Getting hooked is the way to make a pumpkin grow. Cappitte said one of the most-important parts to growing is spending "time in the patch."
Throughout the growing process, which begins in the spring, he had to make sure the vines were buried at least 6 inches deep for the plant to receive nutrients. Cappitte spent anywhere from four to six hours a day nurturing his pumpkin to help it grow to be as massive as it is today.
"It's 365 days a year for me," Cappitte said. "I don't even sleep. It's that bad."
The second important part of growing a massive pumpkin is balancing the soil.
"Being able to adjust in season is what gets you the big numbers and the big weight," Cappitte said.
Cappitte began his journey into growing massive pumpkins five years ago after his father, Norman Sr., also a massive pumpkin grower, gave him a book on growing pumpkins. He read the book and put his own spin on how to grow his pumpkin. The first year he grew one at 650 pounds.
After working with other pumpkin growers and further developing his skills, and a unique, remote and timer-operated water system for his patch, Cappitte hopes to make it to the 1,000-pound mark this year. He also was given the title of "best patch" by the Ohio Valley Giant Pumpkin Growers.
"I think I am advanced with dad's old school [growing] traits and mom's guidance," Cappitte said.
In the garage of his Girard home is a wall of several different kinds of fertilizer for the pumpkin. The potassium from the banana trees he has growing in his yard also helps the pumpkin get larger.
"I shred the banana leaves and put them back into the soil," Cappitte said.
Cappitte will not know the exact weight of his pumpkin until Saturday, but 1,000 pounds is the ballpark estimate.
"When it hits the scales, that's when the truth comes out," Cappitte said.
The weigh-off in Canfield has been considered the No. 1 site in the world for pumpkin growing by the Great Pumpkin Commonwealth.
"Gardening is deeply embedded in our culture," Parks said. "This is like the World Series."
The world-record weight for a pumpkin is 2,009 pounds, achieved by Ronald Wallace from Rhode Island.