Wainwright, Cardinals end Pirates' dream season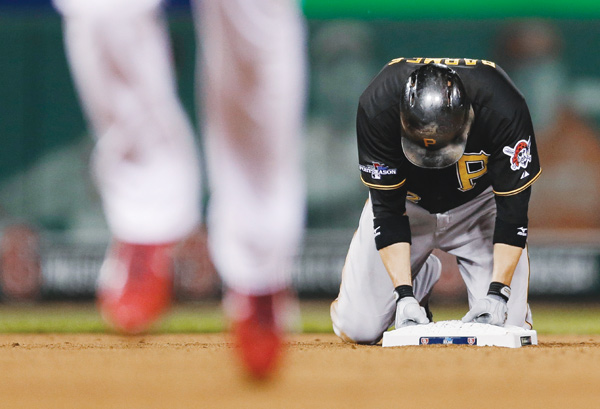 ---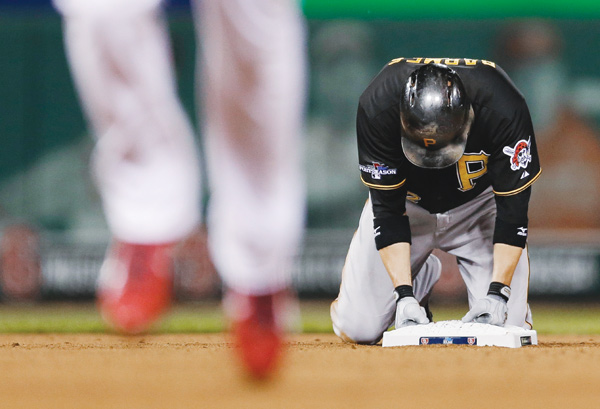 Photo
The Pirates' Clint Barmes kneels on second base after being forced out on a double play to end the sixth inning of Game 5 of the National League Division Series against the St. Louis Cardinals on Wednesday at Busch Stadium in St. Louis. The Pirates' storybook season came to an end in a 6-1 loss to the Cardinals. St. Louis will face the LA Dodgers in the championship series, which begins Friday in St. Louis.
Wainwright, Cardinals end Pirates' dream season
Associated Press
St. Louis, mo.
Nobody's better than the St. Louis Cardinals when they can't afford to lose.
Adam Wainwright went all the way on the mound and St. Louis got two-run homers from David Freese and Matt Adams to beat the Pittsburgh Pirates, 6-1, Wednesday night, advancing to the NL championship series for the third straight season.
Wainwright scattered eight hits in his second dominant win of the division series, coming through for the Cardinals in a winner-take-all Game 5. St. Louis gets to stay at home to open the NLCS against the well-rested Los Angeles Dodgers on Friday night.
"I wanted it bad. It's probably the most nervous I've ever been," Wainwright said. "I don't get a whole lot of nerves when I pitch. Before I pitched today, I was pretty nervous."
By ending Pittsburgh's storybook season, the Cardinals improved to 8-1 when facing postseason elimination the past three years. They also won Game 5 of the NL division series in Washington last year — even though Wainwright got rocked — and at Philadelphia in 2011.
Freese homered in the second inning off rookie Gerrit Cole, and Adams connected in the eighth against reliever Mark Melancon to make it 5-1. Pete Kozma added an RBI infield single, and Wainwright finished it off by striking out Pedro Alvarez with two on.
"I'm just so fired up for this team and this city right now," Wainwright said. "Cardinal fans were rockin' today and I'm just fired up to be here."
Alvarez became the first player with an RBI in his first six postseason games on a fluke hit that caromed off first base in the seventh. But the Pirates, who ended a record streak of 20 consecutive losing seasons this year, were held to one run in each of the final two games of their first playoff appearance since 1992.
Despite their charming turnaround and a victory over Cincinnati in the NL wild-card game, the Pirates haven't won a postseason series since the 1979 World Series.
The 23-year-old Cole beat the Cardinals with an impressive effort in Game 2. They got to him early this time even though his fastball hit 100 mph in the first inning against Matt Holliday.
Freese made the kid pay for a full-count walk to Jon Jay with two outs in the second, lining a 1-2 pitch into the visitors' bullpen in left.
The Pirates had the bullpen up in the fourth after Yadier Molina's infield hit and a throwing error put runners on second and third. Cole gave up just three hits over five innings, but was lifted for a pinch-hitter in the sixth.
Freese struggled this season to overcome a back injury in spring training and had nine homers and 60 RBIs. But just like teammate Carlos Beltran, he's an October star with seven homers, 29 RBIs and a .325 average in 36 career postseason games.