YSU's Ruiz seizes his opportunity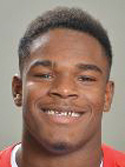 ---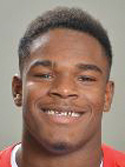 Photo
By Joe Scalzo
YOUNGSTOWN
The best player from Youngstown State's latest recruiting class didn't pop up on Eric Wolford's radar until last October.
Martin Ruiz was in just his second year of playing running back at Tampa's Robinson High School and was coming off a decent, but not spectacular, junior year.
"We probably had another guy [prospect] or two ahead of him at that time and after evaluating his film, we moved him immediately to the top," Wolford said. "When you looked at his yards per carry [7.6 as a senior], that's the impressive thing. He runs away from people, he makes people miss, he's got a big body and a great set of shoulders and neck on him.
"We're excited he's here."
That quote is from February's signing day press conference, long before Wolford knew the player he thought might provide immediate depth would instead give him immediate production.
After losing standout three-year starter Jamaine Cook, YSU's original plan was to start sophomore Demond Hymes at running back, with seniors Torrian Pace and Adaris Bellamy providing depth behind him.
But Hymes hurt his ankle in training camp — he's still not 100 percent and has played sparingly — and Bellamy hurt his ankle at the end of a 203-yard outing in the opener against Dayton and hasn't gotten a carry since. Wolford announced this week that Bellamy has taken a leave of absence from the program.
While Pace started the next four games, Ruiz got more and more playing time, rushing for 350 yards and seven TDs through the first five games.
"We had two starting running backs get hurt at the beginning of the season and I had to step up after them two went down," Ruiz said. "It's been good."
Ruiz got the first start of his career last Saturday at Indiana State, taking his first carry 44 yards for a touchdown en route to career-highs in carries (22) and yards (141) with three touchdowns.
For the last two weeks, he has been named Missouri Valley Football Conference newcomer of the week and on Wednesday he was one of 20 players named to the watch list for the Jerry Rice Award, which goes to the top FCS's top freshman.
"Martin is a good back," YSU QB Kurt Hess. "He's fun to play with, he's fun to watch on film. He's got a lot of tools. He's a fast running back, he's very strong, he's got great balance and great vision and his vision and his strength are only going to get better as he's playing here.
"I'm very blessed to play with Martin. I only get one year with him so I'm going to enjoy every game I have with him."
Ruiz is far from a finished product. He lost a fumble against Michigan State and he misses too many blocking assignments. (He's also a pretty quiet interview, giving four- or five-word answers to most questions, albeit with a smile.) But he's gotten better each week, becoming the centerpiece of YSU's run-first offense.
"Martin Ruiz is very mature, and that's the best thing I can say about him," Wolford said. "A lot of times when you get these kids out of high school, they feel entitled sometimes, they feel privileged and he doesn't have that type of mentality. He's a hard worker, he does things right, he's a student of the game and football's important to him.
"Martin Ruiz is more mature than a lot of upperclassmen even, as far as his everyday approach. That's why he's had success."