---
Thursday, October 10, 2013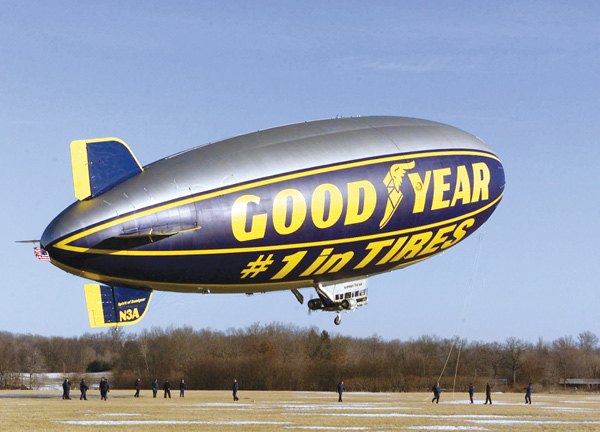 Photo
The Goodyear Tire and Rubber Co. blimp Spirit of Goodyear lifts off from the company's Winged Foot Lake facility in Suffield, Ohio, during its first day of flight testing. Like many elderly Ohioans, the Spirit of Goodyear is retiring to Florida. The 13-year-old airship will make its final departure from Akron on Friday and will fly out of Goodyear's Pompano Beach dock until it is decommissioned next year.
Associated Press
AKRON
After years of flights out of Northeast Ohio, the Spirit of Goodyear blimp is retiring in stereotypical fashion: It's moving to Florida.
Akron-based Goodyear Tire & Rubber Co. had planned for the blue blimp emblazoned with its gold logo to make farewell flights around the city Wednesday and today.
The blimp's light board was programmed with special messages "as a nod to the folks of Akron," blimp spokesman Doug Grassian told the Akron Beacon Journal. People were encouraged to share their blimp stories and photographs through Goodyear's Facebook and Twitter pages for the blimp.
"We love Akron. Akron loves the blimp," Grassian said. "There's a big connection there."
The blimp makes its final departure from the city Friday, bound for several college football games — Penn State-Michigan this week in State College, Pa., then on to North Carolina next — on a roundabout path to Florida.
The blimp, which had been based at an airdock in Suffield Township, will be stationed at Goodyear's dock in Pompano Beach, also home to the Spirit of Innovation blimp. The nearly 14-year-old airship will fly until it is decommissioned next year as the company launches a round of replacements for its three U.S. blimps over several years.
Grassian said the Spirit of Goodyear, commissioned in March 2000 by NASA astronaut Sally Ride, has flown longer than most blimps of that design.
Goodyear is building a new fleet of three internal-frame zeppelin airships to replace its three domestic blimps.