JFK golfers are all about the numbers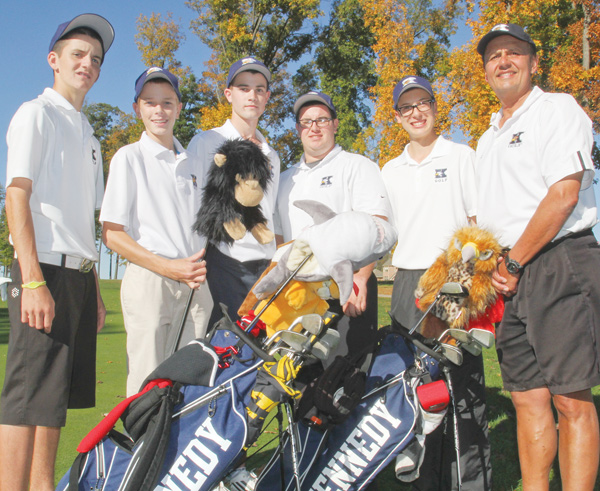 ---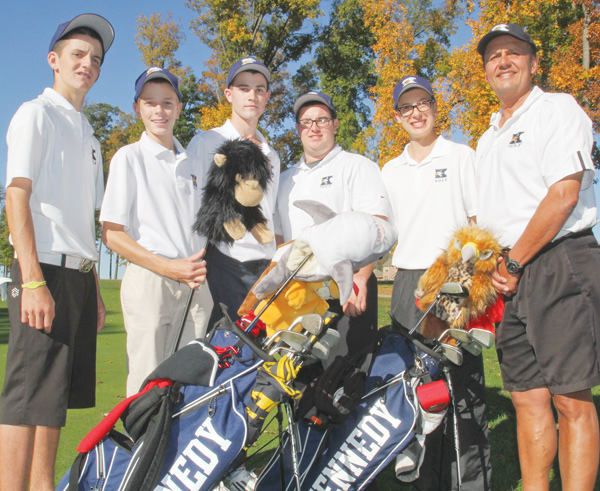 Photo
The Warrren JFK golfers, from left, Ryan Fowler, Ryan Theis, Zach Shoaf, Billy Phillips and Dan LaPolla, and their coach Jim St. George will be making their second consecutive trip to the Division III state golf tournament. Play begins Friday at The Ohio State University's Scarlet Course in Columbus.
St. George makes sure Eagles know
their goals on OSU's Scarlet Course
By ryan buck
Canfield
The numbers "80/320" are a foreign concept to most golf fans, but for the Warren JFK golf program, they're a way of life and a constant reminder.
On Friday, the Eagles will make their second consecutive trip to the Division III state tournament and that number, stitched into the back of each golfer's cap, is the focus of their chase.
Coach Jim St. George is all about benchmarks for every match.
"He gives us numbers to shoot," said JFK freshman and No. 4 Ryan Theis, in an almost robotic tone.
St. George is a firm believer that if his top four players, at any 18-hole event, average 80 strokes individually and 320 as a team, "you're definitely going to make some noise.
"That's why it's on the hats. You've got other teams asking about it. Last year, Ashland Crestview won the state title at 323-323 and they all go, 'Wow that makes sense.' If you get the one guy picking up the four guy and the two guy picking up the three guy and you hit that 320 ..."
The Eagles finished eighth in the state last season, when the event was held at North Star Golf Resort in Sunbury. Zack Berry of Newton Falls will also be playing as an individual this weekend. He is the second Tiger in as many years to qualify. Logan Beechy qualified in 2012.
This year, the tournament will be played at Ohio State's Scarlet Course. Re-designed by Jack Nicklaus in 2004, it is annually lauded as one of the nation's best collegiate courses and hosts a Nationwide Tour event every August.
"That's what makes golf exciting is that each event is a different track, different strengths and weaknesses of the course, different lengths, different water," St. George said before putting the team through a practice round at Kennsington Golf Club.
Theis joins Bill Phillips, Ryan Fowler, Daniel LaPolla, and Zach Shoaf for JFK's state tournament encore.
Fowler, the Eagles' top seed, is looking forward to the challenge, having played the course once before. He is also looking to escape the memories of his first round at the state finals last fall. His first-round 84 was well above his season average.
"Last year it was freezing," said Fowler, who finished third in the Ohio Junior Amateur this summer. "This year they said it would be high 60s and 70s. Having 10 layers of clothes on didn't help the swing."
St. George knew his team was capable of a return to Columbus, but stuck to a rigid plan to eliminate complacency.
"I thought there was more pressure this time," St. George said. "They're excited. We basically make our season into three. We have our regular season, which we play a lot of 18-hole invitationals, which prepares us anyhow. Then we get into our conference championship, which is phase two and the sectionals and districts makes up phase three. They get excited knowing we're tiered towards the right spot."
This weekend, he will have a new emphasis.
"It's more attention to detail, more serious," St. George said. "It's big on the short game, the chipping, the putting. I've got good ball-strikers. It's a question of who can make the putts."
Even while making their run at the school's fourth state golf title, the Eagles have already made history. They are the first area team since the Jason Kokrak-led teams of 2000 and 2001 to make two straight trips to the state tournament.
With "80/320" always in mind, St. George believes a strong first day will give JFK a chance against a field that features nine of the 12 participants from last season.
"I'm putting a lot more emphasis on day one," he said. "The experience from last year was that you can't make that up on day two. It's like a horse race. You've got to get out of the blocks good because there's too many good teams down there."