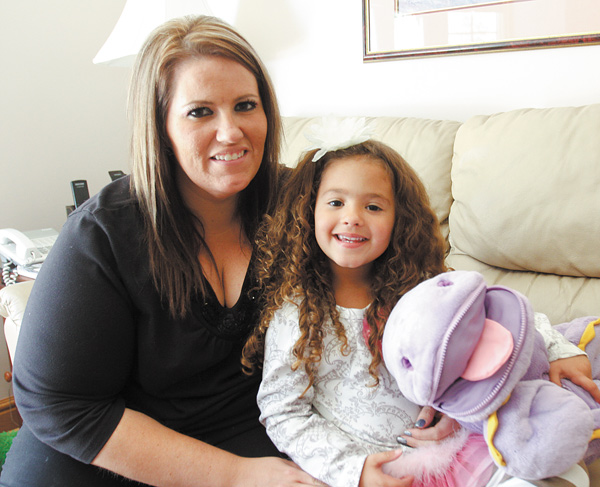 ---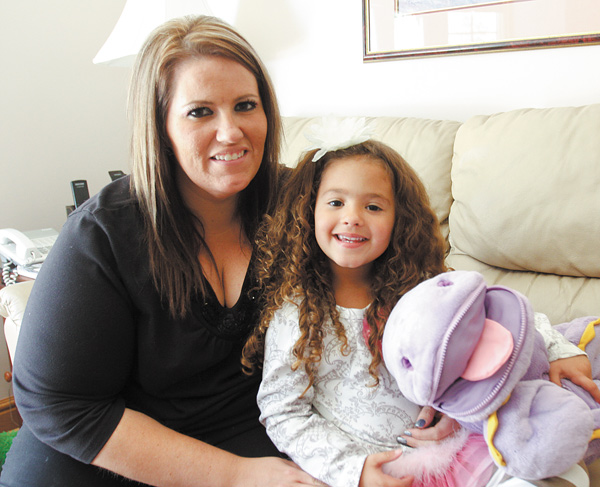 Photo
Halle Smith, 4, of Canfield nearly died earlier this year after losing half of her blood after a tonsillectomy. Her mother, Jenny Enyeart, said she was told hemorrhaging is a risk in young patients, and that 2 to 4 percent of patients experience it.
CANFIELD
Family, renewed faith and a healthy dose of fear sum up the past few years for Jenny Enyeart.
Four years ago, the single mom survived a bout with Necrotizing Fasciitis, a flesh eating bacterial infection she got after her daughter Halle Smith was born. The Vindicator followed Jenny's story then and caught up with her recently after her daughter's brush with death. Halle, 4, lost half her blood days after having her unusually large tonsils and adenoids removed Jan. 29 at The Surgical Hospital at Southwoods in Boardman. Jenny said she was told hemorrhaging is a risk in young patients, and that 2 to 4 percent of patients experience it.
After outpatient surgery, Halle had a fever, wouldn't eat or drink and was taken later that day to the emergency room and given intravenous fluids. She went home but was admitted the next day to Akron Children's Hospital in Boardman where she stayed five days. Doctors said she possibly had a virus and treated her based on that. Back home, Halle wasn't getting better, Jenny said, and she choked every time she tried to eat or drink.
Jenny's parents, Dr. James and Barb Enyeart, insisted Jenny go to dinner with friends Feb. 8 so she could take her mind off things. When she returned to the home they share about 9:30 p.m., ambulances and a firetruck were in the driveway.
Jenny's mom, a nurse, had been trying to get Halle to bed when she began to projectile vomit massive amounts of blood. "If you would have come in, you would have thought it was a massacre," she said of the scene.
Barb screamed for her husband and called 911. Dr. Enyeart, a geriatrician, had Halle face down in his lap, clearing her throat and was covered in blood when Jenny walked in.
"After my dad started saying 'We're losing her,' I just thought that was it and I felt really numb," she said.
Halle was unconscious, and Dr. Enyeart performed CPR before she was taken to St. Elizabeth Health Center in Boardman. It was too windy to take her to Akron Children's main campus by helicopter, so she went by ambulance.
There, she had surgery to stabilize the bleeding and find its source. She was given a blood transfusion, put into a medically induced coma and was placed on a ventilator. They never did get a clear answer about what caused the bleeding, but Jenny said doctors indicated that seven to ten days after surgery is when the risk is highest because scabs start falling off.
Jenny said she worried Halle wouldn't make it and wondered if she would have brain damage or other problems. She eventually was taken off the ventilator and began breathing on her own, though it took her a few months to get back to normal.
Halle also is the daughter of Jordan Smith of Campbell.
A doctor in Akron told Jenny her father's quick action that night likely saved Halle's life. When Jenny was sick after having Halle, it was her father who recognized the severity of the infection and insisted she see a surgeon.
"We're both just really lucky to have my dad around," she said.
Jenny, a stylist at The Beauty Shop in Boardman who's pursuing a master's degree in counseling, said the ordeal reinforced her appreciation for family and God.
Jenny and Halle started attending church every Sunday. "Things like this wake you up," Jenny said. "It really seems like a miracle she's alive."
For his part, Dr. Enyeart feels "incredibly lucky" to have been there for Halle. "She literally lost consciousness in my arms," Dr. Enyeart said. Had it happened the night before, Jenny would have been home alone with Halle and she said she's not sure she would have known what to do.
"I thank God all the time that it was him here, not me," she said.
Dr. Enyeart said such an adverse reaction is statistically rare and that parents of young children facing a tonsillectomy should consider having it done in a hospital rather than outpatient facility. He credits the staff at Akron Children's Hospital for their care during Halle's stay, and Jenny said Halle's pediatrician, Dr. Booker Bair, went above and beyond throughout the ordeal.
Halle, who attends Ursuline preschool and wants to be a nurse, has no lingering health problems. She remembers the night she got sick but didn't want to talk much about it, saying only, "I'm a lucky ducky."