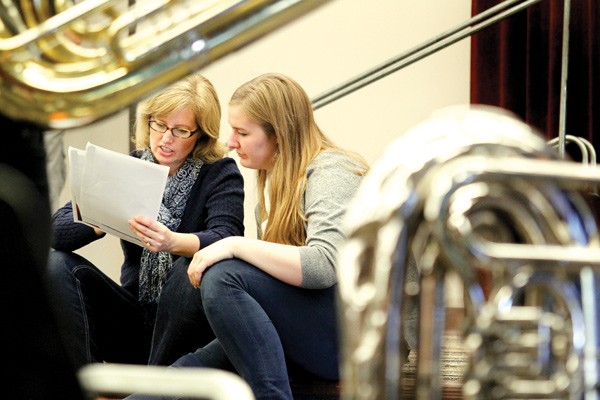 ---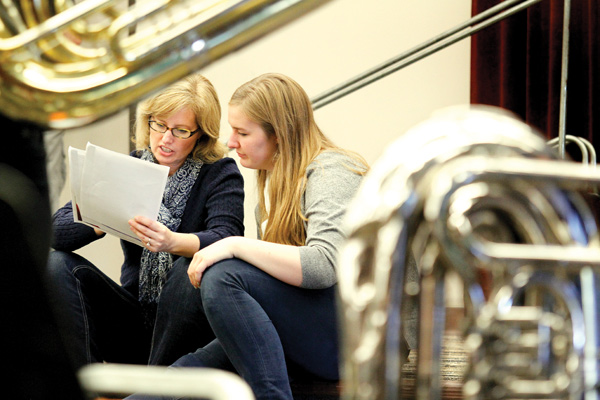 Photo
From left Beth and Laura Fox review some of the programs offered at Youngstown State University's Dana School of Music in the Wind Ensemble class. Laura is a senior at North Allegheny High School in Pittsburgh. Students considering attending Dana had the opportunity Wednesday to experience a day at the school, meeting professors and current students and sitting in on rehearsals.
High-school students sit in on music classes at YSU
By Denise Dick
YOUNGSTOWN
Niles McKinley High School senior Emily Karr always has been interested in music, and her mother told her that Youngstown State University's Dana School of Music is the best.
She decided to check it out for herself Wednesday at the school's open house for prospective students. Emily, a flutist, sat in on a rehearsal of the Wind Ensemble under the direction of Stephen Gage, director of bands and music professor.
"It was kind of terrifying and really fun at the same time," she said. "I was blown away by the way they sound."
High-school students considering enrolling in Dana had the opportunity to meet professors and current students, sit in on classes or labs, rehearse with chorale or instrument ensembles and listen to a faculty recital.
The morning opened with performances from several Dana students. Performers included clarinetist Nicole Angelilli, violinist Abigail McLaughlin, pianist Diane Yazvac, tenor Victor S. Cardamone and pianist Spensor Reed and the Redondo Road Quintet of Antonie Jackson and Katie Markielowski on trumpet, Shanyse Strickland on horn, Ryan Ham on trombone and Christian Dennis on tuba.
Gage told the young musicians that he doesn't have a job, it's a lifestyle.
"I still look forward to getting up in the morning and coming to work," he said.
Not everyone interested in enrolling at Dana gets in, however. It's selective. Auditions are Dec. 7, Feb. 15 and March 1, and information is available at 330-941-3636 or online at www.fpa.ysu.edu/music.
"Music is so soulful, so personal," Gage said. "Why should you choose music as a career? Nothing else touches you the way that music does."
Taylor Donnelly, a senior trumpet player at Mineral Ridge High School, is considering Dana as her college choice next year and sat in on the Wind Ensemble rehearsal.
She appreciated the professionalism of the college musicians.
Taylor started playing in middle school, but sort of slacked off for a couple of years. Since her junior year of high school, though, she's become a lot more serious about music and credits both her band director and her private teacher for helping her.
She was impressed with the ensemble.
"I sat next to the first trumpet player, and to be able to play with him was really an honor," she said.