Springfield sweeps East Palestine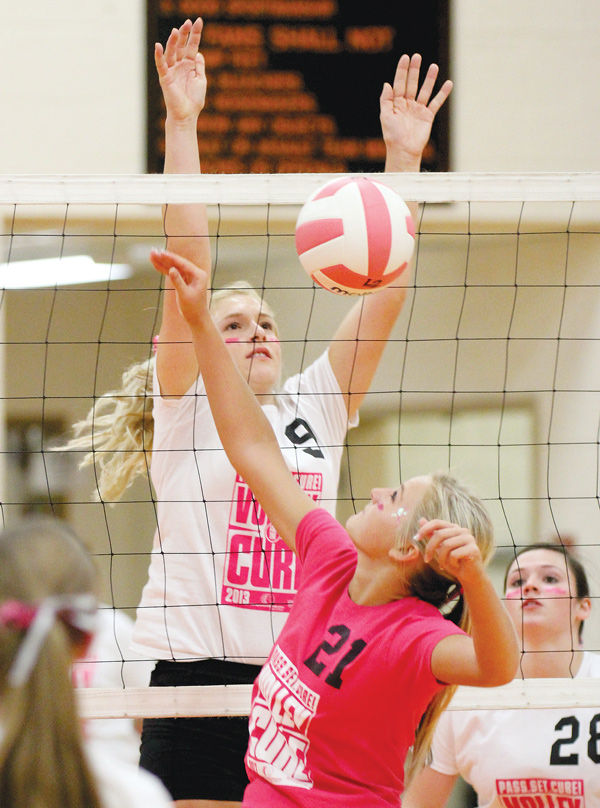 ---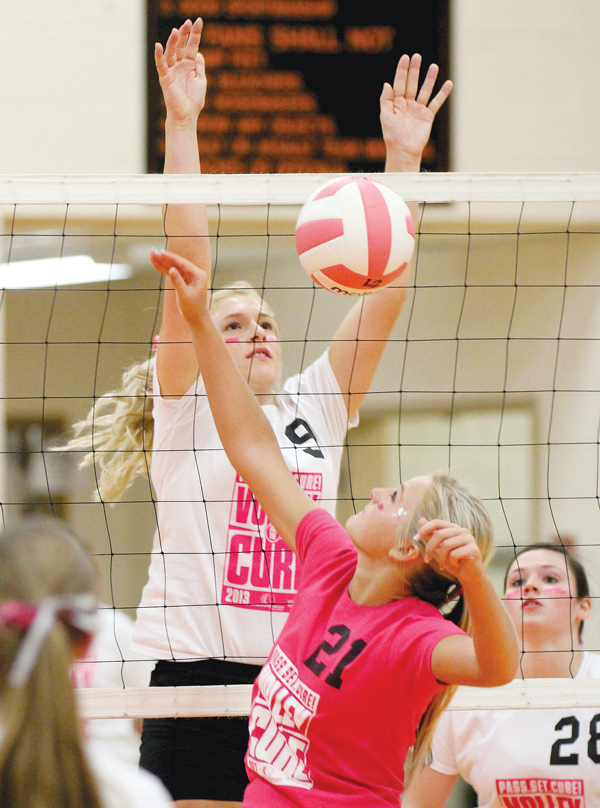 Photo
Springfield's Marissa Buchenic (21) and East Palestine's Carley Sansenbaugher (9) battle at the net during a volleyball match Tuesday night at Springfield. The host Tigers beat the Bulldogs, 25-21, 25-8, 25-17.
By TIM CLEVELAND
NEW MIDDLETOWN
Springfield maintained its focus on a night in which the Tigers and East Palestine played in an effort to raise money to fight cancer through the "Volley for the Cure" charity, sweeping the Bulldogs 25-21, 25-8, 25-17 on Tuesday night.
"If we stay focused, we are very good," Springfield coach Bill Knight said. "Tonight with all the fanfare and everything (for Volley for the Cure) going on, it was a little tough to stay focused. They did a great job."
The high point for the Bulldogs was taking 3-0 and 15-14 leads in Game 1. Other than that, it was all Springfield (14-5, 9-4 Inter Tri-County League, Tier One).
"Mental mistakes — we couldn't pull out of it," East Palestine coach Denise Pickett said of what doomed her team. "They've got to pull together as a team, play as a team, and work together. They weren't able to put it together tonight."
In Game 2, Springfield jumped out to an early lead and was never threatened. Leading 6-3, Mackenzie Groner served 14 consecutive points for a 20-3 advantage. She finished with 16 in the match.
"We practice serving; that's one of the things that starts it," Knight said. "Mackenzie did a nice job tonight."
With the first game tied 15-15, the Tigers' Morgan Buchenic served five consecutive points for a 20-15 lead. Her sister Marissa served the last four, with Quinn Crowe sending down one of her nine kills to clinch the game.
"She's only a sophomore," Knight said of Crowe. "We expect big things out of her the next couple years. Morgan is probably the best player for us, then Quinn has something to live up to next year."
Leading 21-17 in Game 3, Springfield closed strong as Marissa Buchenic closed out East Palestine (9-12, 4-9) with four service points. Callie Ford (a team-high 17 kills) and Crowe finished off the final two points with kills.
Even though the Tigers looked very strong Tuesday night, Knight said more work still needs to be done as his team works toward the postseason.
"We need to work on our blocking," he said. "Blocking has been very weak for us. The last couple days we've been working on blocking. That's what I'm going to focus on the rest of the season. If you can't block, you can't win."
Elizabeth Thompson led Springfield with 20 assists.
Megan Brown led East Palestine with nine assists and Carley Sansenbaugher had nine kills. Jessica Leake led the Bulldogs with eight points.