Family gathering will celebrate 60th anniversary for the Gergels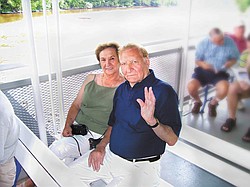 Photo
Mr. and Mrs. Peter Gergel
YOUNGSTOWN
A weekend family gathering in Youngstown will honor Peter and Patricia Gergel for their 60th wedding anniversary.
Their children, Gregory Gergel of Orlando, Fla.; Doug Gergel of Troy, Mich.; and Patty Gergel of Jersey City, N.J., will host the event. The couple also have two grandchildren.
The former Patricia Preksta married Mr. Gergel on Oct. 10, 1963, at Holy Trinity Ukrainian Catholic Church.
The couple are members of the church, and Mrs. Gergel is a member of its guild.
Mrs. Gergel retired as an administrator for the DeBartolo Corp., and Mr. Gergel retired from Truscon Steel, where he worked in operations. He is a World War II Army Air Corps veteran.