The Youngstown mayoral forum got a bit testy
---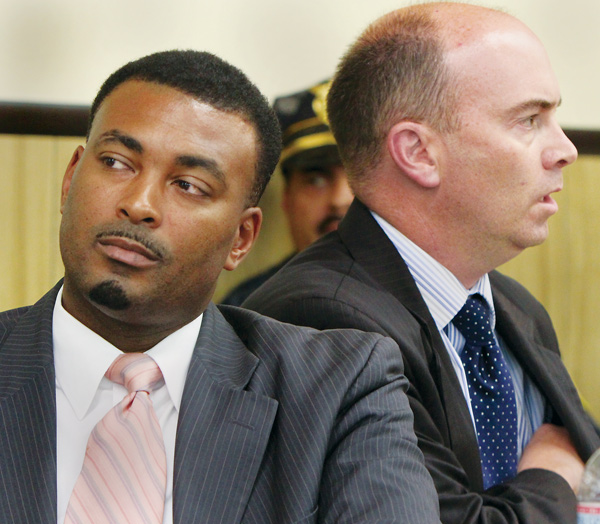 Photo
Youngstown mayoral candidates DeMaine Kitchen, left, and John A. McNally IV get ready to participate in a political forum in the fellowship hall at New Bethel Baptist Church on the city's South Side. Monday's forum also featured candidates for council president and Youngstown school board running in the November general election.
YOUNGSTOWN
A forum, particularly among those running for Youngstown mayor, got a bit testy at times as candidates took subtle and not-so-subtle shots at one another.
Write-in candidate Claudette Moore focused her attention Monday on Democrat John McNally IV, questioning an indictment on political corruption charges, dismissed two years ago, against the latter.
Moore also lashed out at the packed crowd of about 200 people at the forum at New Bethel Baptist Church, sponsored by the Community Mobilization Coalition and the Junior Civic League. The crowd was noisy at times.
McNally and Moore both asked the audience not to talk so the candidates could be heard.
The Rev. Kenneth L. Simon, New Bethel pastor and head of the coalition, who served as the forum's co-moderator, had to repeatedly ask the audience to quiet down and, a few times, including after Moore's comments, said personal attacks would not be tolerated.
DeMaine Kitchen, an independent candidate, was also at the event and definitely had the audience with him.
The loudest cheer of the night came during his opening statement.
During it, Kitchen, who serves as the mayor's chief of staff/secretary, but is on a voluntary leave of absence to focus on his campaign, said the only thing that will change after the Nov. 5 election is the pictures of his kids will move from his office next to the mayor to the mayor's office.
Not at the forum were Frank Bellamy and John M. Crea, both independents, and Cecil Monroe, a write-in. Crea is in the Mahoning County jail.
Michelle Nicks, reporter for 21 WFMJ-TV, The Vindicator's broadcast partner, asked Kitchen about the sexual-harassment claims filed against him by Lyndsey Hughes, the city's downtown director of events, special projects and marketing. Nicks asked Kitchen if he was willing to provide copies of text messages and emails between him and Hughes.
Kitchen said those are public records and already are in the city's possession. The city hired Steve Smith, a retired Summit County sheriff's detective to investigate the claims, on Friday.
Kitchen also said "dirty politics" wouldn't "define our campaign."
Nicks also asked McNally if he's received information from federal authorities if he is a target of a criminal investigation. McNally said he hasn't received any information about that.
A state political corruption case against McNally and others related to the county's purchase of Oakhill Renaissance Place was dismissed in July 2011 when prosecutors said about 2,000 hours of tapes that may be relevant to the investigation was in the hands of the FBI and couldn't proceed without them.
Also Monday, candidates for council president and the city school board spoke.
Susie Beiersdorfer, the Green Party candidate for president, and Christopher Travers, an independent, attended.
Mayor Charles Sammarone, the Democratic nominee for council president who stopped attending candidate forums years ago, didn't come to this one either.
Beiersdorfer spoke about more leadership and accountability needed in the city. Travers, who acknowledged he was nervous, said the city needs to focus on neighborhood improvements.
School board candidates Jerome Williams, Jackie Adair, Hattie Wilkins and Ronald Shadd attended the forum. There are three board of education seats up for election this year.
Write-in Lock Beachum Sr., a 16-year incumbent, also is running for school board.