Sojourner House has annual candlelight vigil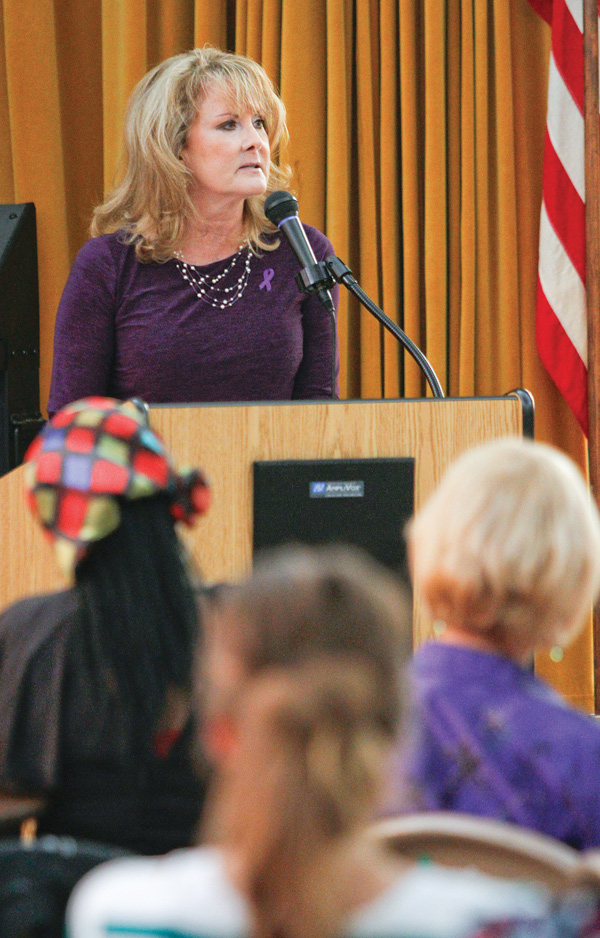 ---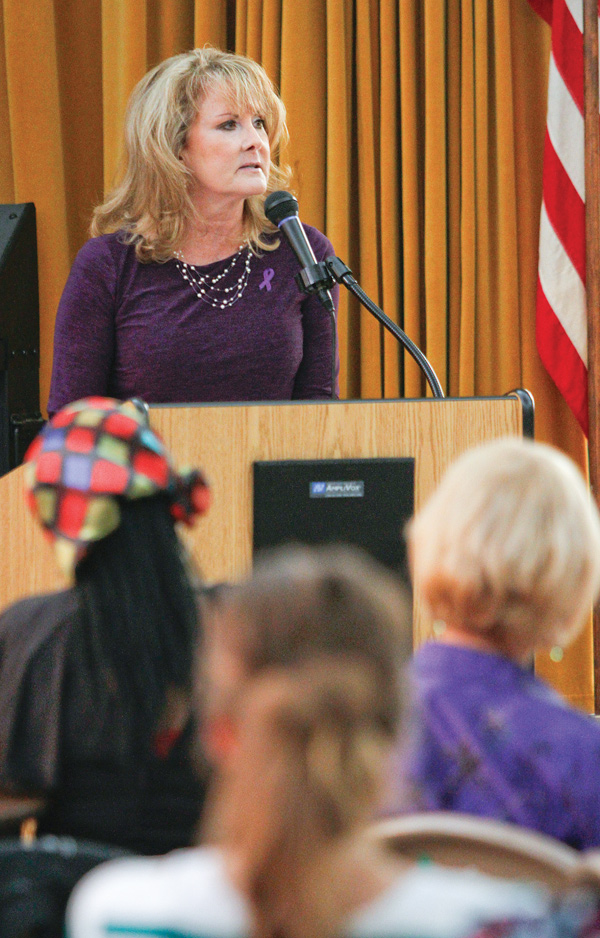 Photo
Bridget Mahoney, former WKBN-TV news anchor, talks about her battle to overcome domestic violence. She was the keynote speaker Monday at the Sojourner House Domestic Violence Program and annual vigil.
YOUNGSTOWN
Domestic abuse is all about power and control, said Bridget Mahoney, who was in the legal system for 19 years trying to extricate herself and her two daughters from what she said was an abusive marriage.
She said there seems to be a manual that domestic abusers use because their tactics are all so similar: Control the finances, erode self-esteem, isolate the victim from family and friends and use fear and intimidation.
Mahoney, former WKBN-TV news anchor, was keynote speaker Monday at the Sojourner House Domestic Violence Program's annual vigil at First Presbyterian Church, 201 Wick Ave. The theme was "Out of the Shadows Into the Light."
Mahoney said the Mahoning County legal system carries much of the blame for prolonging the psychological and emotional pain and suffering connected with domestic abuse.
Mahoney, who is remarried and lives in the Cincinnati area, now advocates for domestic-violence education and policy change.
She has been a speaker for Citizens Against Domes-tic Violence; given presentations to thousands of Ohio high school students; and worked with Sandra Stabile Harwood, former Ohio state representative, for the successful passage of House Bill 19, the "Tina Croucher Act," which requires dating-abuse education in grades seven through 12.
Tina Croucher was killed by her abusive ex-boyfriend when she was 18 in 1992.
Mahoney's said her legal saga began in February 1989, when she filed for divorce, and did not end until February 2008.
"Instead of protection, the courts ... increased the layers of emotional and physical trauma and deepened the devastating long-term effects still in need of healing," Mahoney said.
The hardest parts along the way were not being believed, the feeling of helplessness, the feeling of shame, feeling judged, feeling isolated and alone, not knowing whom to trust, not being understood by others, and agonizing over whether she had done everything she could have done, she said.
Another women, who did not wish to be identified, said she was physically, emotionally and sexually abused by her husband.
She said her husband threatened to take away her four children, threatened her mother, and moved her to Youngstown to isolate her from family and friends.
She said when she got a divorce the abuse got worse.
Finally, she recorded his telephone calls and when her ex-husband beat and sodomized her, she went to a hospital and then to a friend who called police. The police suggested she go to a safe house. That was when she found Sojourner House.
Sojourner House provided legal aid, housing, and most importantly, she said, she and her children felt safe.
"Sojourner House armed me with a team and continues to be there for me. I encourage you, if you know of an abusive situation, believe them and get them to Sojourner House," she said.
In the past eight years, Sojourner House, a program of Compass Family & Community Services, has served more than 5,126 women and children internally and externally through shelter services, judicial advocacy, crisis intervention and counseling.
Women and children have used more than 34,674 bed days living in the shelter. Sojourner House also has received 7,905 calls on its 24-hour crisis line over the eight-year span.
Mahoney praised Sojourner House for being on the front lines daily helping, serving and protecting victims.
"We are out of the shadows ... and the light is shining brightly," she said.