Early College students learn about nonviolence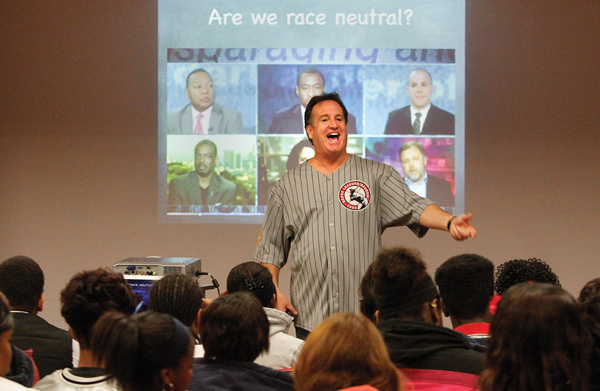 ---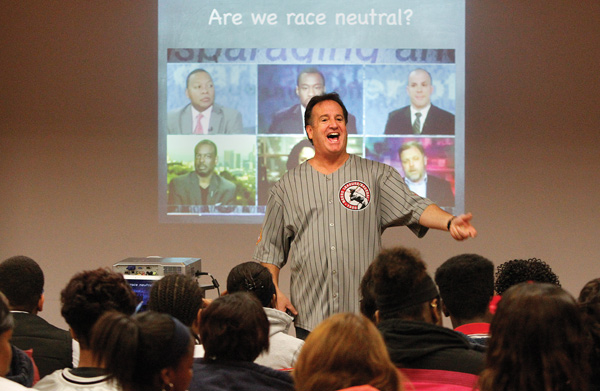 Photo
Jeff Steinberg of Sojourn to the Past, a civil-rights education program, speaks to Youngstown Early College students Monday in the Ohio Room in Youngstown State University's Kilcawley Center as part of Nonviolence Week.
Early College students learn about nonviolence
By Denise Dick
YOUNGSTOWN
Youngstown Early College sophomore Sahara Buggs-Crum was so moved by the story of Elizabeth Eckford that she wanted to call her and thank her for her struggle.
Eckford was one of the Little Rock Nine, nine African-American students who volunteered to integrate the all-white Central High School in Little Rock, Ark., after a court order.
Sophomores at YEC learned about Eckford, who also was a sophomore when she enrolled at Central, Monday morning in a presentation by Jeff Steinberg of Sojourn to the Past, a civil-rights education program in which students visit sites in the South from the civil-rights movement and meet people who were part of it.
Steinberg's presentation, in the Ohio Room of Youngstown State University's Kilcawley Center, was part of Nonviolence Week, which runs through Saturday.
Sahara, 15, didn't reach Eckford, whom she called using Steinberg's cellphone, but she left a message.
"I told her my name and where I go to school and that I'm touched by everything that she went through," she said.
Six of Sahara's classmates stepped up to call Eckford after Sahara made the first move.
A mob of angry townspeople followed Eckford to school that first day, yelling at her, calling her names, spitting on and threatening her. She suffers from post- traumatic stress disorder from the ordeal, Steinberg told the students.
Mahoning Valley Sojourn to the Past students initiated Nonviolence Week, which began Sunday with a parade and rally. This marks the first year it's been observed statewide.
Students from the city schools, with help from Penny Wells, Mahoning Valley Sojourn director, participate in the program annually, visiting the South and learning about Martin Luther King Jr.'s Six Principles of Nonviolence.
"If you come to the deep south, you're going to meet people who had family members murdered fighting for freedom," Steinberg told students.
The 10-day trip costs $2,800 per person, though Wells raises money to help defray a portion of the amount.
Steinberg, a history teacher by trade, began Sojourn to the Past 14 years ago while teaching in San Francisco's Bay Area upon seeing a lack of compassion, understanding in society.
"I thought who defines that better than people in the Civil Right Movement," he said.
After 14 years and 70 trips, Steinberg said he wouldn't be doing it if he didn't believe he was making a difference. The YEC students Monday morning, for example, learned about people and events they didn't know anything about before.
"By the end, you could hear a pin drop in here," he said.
More like this from vindy.com