Poland's Hannon driven by disappointment
---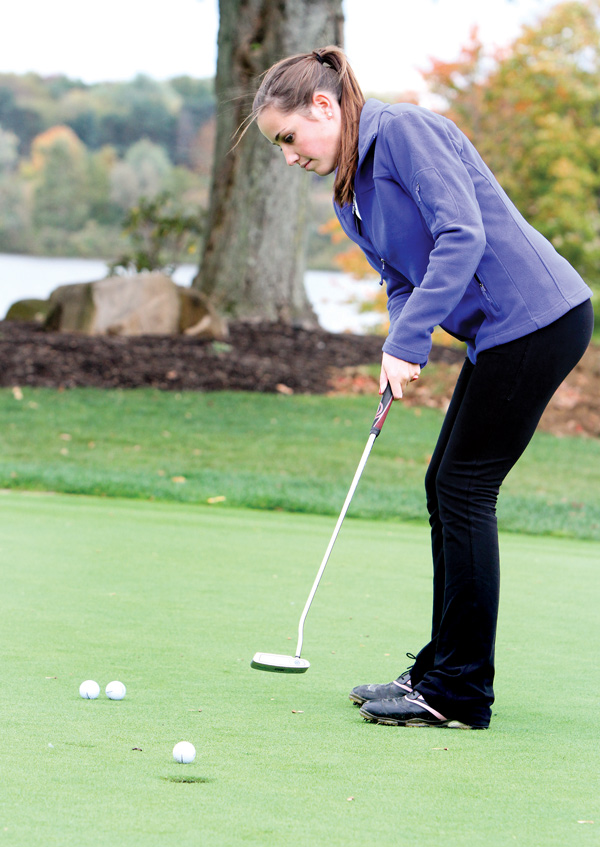 Photo
Poland senior Melinda Hannon practices her putting during Monday's practice at the Lake Club. Hannon will compete in the Division II state golf meet this weekend in Columbus.
By Greg Gulas
POLAND
For the sixth straight year the Poland High girls golf team will have a presence at the state tournament, this time pinning its Division II hopes on senior Melinda Hannon.
Hannon will carry on a tradition that began in 2008 when the Bulldogs sent four consecutive teams to the state's elite tournament, then followed with an individual qualifier the past two campaigns.
For Hannon, the sting of missing last year's tournament, albeit by three strokes, motivated her entering this year's district tournament, where she finished second to earn the last qualifying spot, beating out two others in a playoff.
"It was such an empty feeling after falling short last year, a feeling that I don't want to experience ever again," she said. "I just couldn't come to grips with the fact that my season had actually ended. I said to myself that I would do anything in my power not to feel like that again, so I took a month off and then began to train for this season. The saving grace for me was that I had one more year of eligibility remaining."
The start of Hannon's training began last November when Bob Serich, owner of RKS Training and a certified personal trainer who specializes in working with golfers, took Hannon under his wing.
"We worked with Melinda on a little bit of everything, focusing basically on flexibility and back strength, which is a weakness in most kids, especially those that participate in golf," Serich stated. "We strengthened those muscles so that she could play pain-free with the goal to prevent any future injury in that area. It's a proactive approach as opposed to a reactive approach."
During the winter months Hannon worked on her swing at Girard's Golf Dome, which she said also helped with her short game.
She credits former men's tour pro Jerry McGee, who has worked with her on and off over the past two years, and former Ohio State Buckeyes athletics hall of famer, Rick Jones, Sr., as calming influences who assisted in rescuing her game from an early funk.
"Melinda struggled with her game at the outset this season. She was scooping the ball and I was just able to get her to hit down," Jones noted. "She was an arm swinger and we were then able to convert her to a body rotation swinger. We also worked on her putting game and I must add that she is a fast learner, someone who took right to what we were trying to accomplish with her game."
McGee, a member of the 1977 U.S. Ryder Cup team, said Hannon's improved short game was the big difference this year
"Tournaments are won from 50-yards in so we concentrated on her putting and short game," he said. "She hits the ball straight and her pitching, chipping and putting have now become her strength. She's earned her shot at the state."
Hannon, who was medalist in 14 of 18 Bulldogs matches this fall, will carry a 40.8 average (nine holes) into this weekend's 36-hole tournament.
She said she was most fortunate to learn from former teammates Allison Mitzel (who now plays for YSU) and Maria Mancini (now at Indiana) as well former coach Judy Young (three years) and current coach Todd Marian.
"First and foremost Melinda has tremendous talent. She is focused, listens and has worked hard, especially during the last half of the year," Marian said. "We spent a lot of time on her swing and focused on her short game and she was receptive to everything that we worked on."
Young said Hannon's work ethic is her best quality.
"Melinda [Hannon] is goal-oriented and one of the hardest working players that I have ever had the pleasure of coaching," Young said. "She's very coachable and always encouraging her teammates. What gets lost in the discussion is her great leadership ability."
Hannon has played the OSU Gray Course six times. She said it's her favorite course away from home.