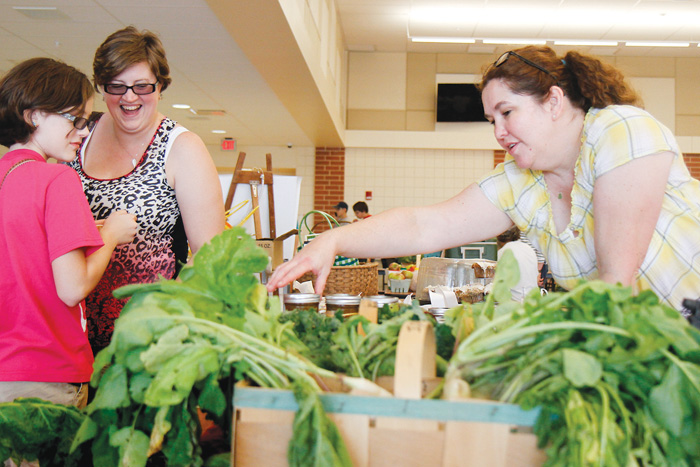 ---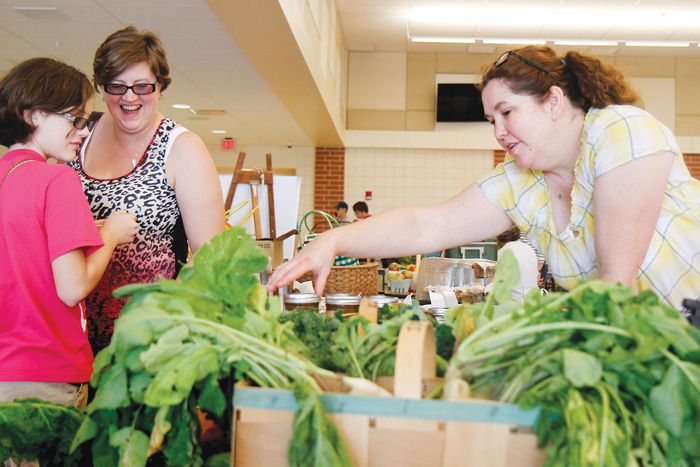 Photo
Mackenzie, 10, left, and Courtney Kuhns of Austintown admire the goods at Bridget Harker's farmers' market booth set up inside Austintown Intermediate School for the Awesometown event Sunday.
By ELISE McKEOWN SKOLNICK
AUSTINTOWN
Activities at this year's Awesometown Community Fun Day were spread throughout the Austintown school district's new campus.
The annual event Sunday included musical performances and entertainment, children's activities, basket raffles, a small-business expo and a classic-car show, but also was used as an opportunity to showcase the district's new elementary and intermediate schools.
A dedication ceremony and tours of the new buildings drew some community members to the event.
Melissa Kerr hadn't had a chance to see the new schools where her daughters, Savanna Kerr, 8, and Kaylee Kerr, 6, spend their days.
"We wanted to see the buildings," Melissa said. "I haven't seen them yet. [Savanna and Kaylee have] been in them — and enjoying them."
They were happy to be able to show the schools to their mom, said Savanna and Kaylee.
The Awesometown event is nice, Melissa said.
Melissa and Chris Crawford attended with their four children, age 3 to 12.
"Our children are in three of the schools that are here — two in the new ones," Melissa Crawford said. "We thought it would be a nice thing for them to be part of history in the making."
The Crawford children enjoyed the touch-a-vehicle portion of the event. Various vehicles, including a SWAT truck, firetrucks, a dump truck and tow trucks, were available for children to see, touch and enter.
Student members of the Austintown Middle School Falcon Business Academy set up a food stand and sold healthy snacks, just like they do during school hours.
Students "behave more and they pay attention, and their test scores are better with a full stomach," said Jalaysha Carter, 11, a member of the business academy. "It's supposed to be all healthy snacks, low-calorie."
The students sold goldfish crackers, snack mix, cheese, apples and similar items. Prices ranged from 50 cents to $1.
The wind kept knocking their sign over, said Julia Brooks, 12, a member of the academy, but the day went well.
"We've actually sold a lot," said Robbie Berarducci, 11, also a member of the academy.
The Awesometown Community Fun Day previously has taken place at Austintown Township Park and Emmanuel Community Church on Kirk Road.