Watercolors auction to be gardens' delight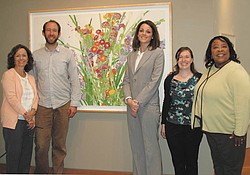 Photo
SPECIAL TO THE VINDICATOR: Committee members of the "Watercolors at the Gardens — An Evening with Gary Bukovnik" event are, from left, Janey Donadee, co-chair; Adam Lee of The Sprouted Table; Katie Ann Heddaeus; Mandy Smith and Madonna Pinkard. They are standing in front of Bukovnik's watercolor "Joy."
Staff report
YOUNGSTOWN
A renowned artist donated the paintings to be sold at an auction planned for 6:30 to 9:30 p.m. Thursday at Fellows Riverside Gardens, 123 McKinley Ave., in Mill Creek Park. The event is titled "Watercolors at the Gardens — An Evening with Gary Bukovnik."
In conjunction with the auction, "Eternal Spring," a collection of vibrant watercolors by Bukovnik, awaits visitors in a free exhibit through Nov. 10 at the Weller Gallery in the Davis Center.
Tickets for the fundraiser cost $100. To attend, call 330-740-7116. Patrons of the evening can admire the art, visit with the artist, eat locally sourced food by The Sprouted Table, taste gourmet cheeses courtesy of Giant Eagle and listen to live music while enjoying a favorite beverage. Afterward, desserts by The Georgetown will be served.
Bukovnik painted four pieces just for this show. He created "Magnolia," "Narcissus," "Witch Hazel" and "Tulips" from photographs taken in the gardens by park staffers.
The exhibit by the internationally recognized artist is here courtesy of the Bonfoey Gallery in Cleveland. Paul Boucherle, who will act as master of ceremonies, also will preside over the auction.
A highlight of the evening will be the unveiling of "Fellows Riverside Gardens Iris," a new watercolor triptych, commissioned by Friends of Fellows Riverside Gardens.
The painting will hang permanently in the Radius Room of the Davis Center. After the unveiling, the live auction of the four watercolors will begin with a brief narrative by Bukovnik.
Watercolors in the Gardens is co-sponsored by Friends of Fellows, Fred Martin Ford & Mercedes Benz, Ohio Structures, RT Vernal Paving & Excavating, Liberty Steel, The Murphy Contracting Co. and Michael and Lin Qing Bruno.