Heydle-DiNardo engagement announced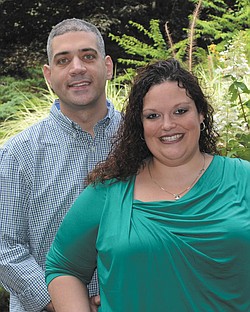 Photo
Dominic DiNardo and Jacqulyn Heydle
BOARDMAN
Carl and Rhonda Heydle of Boardman are announcing the engagement of their daughter, Jacqulyn Heydle of Boardman, and Dominick DiNardo of New Castle, Pa.
His parents are Ron and Martha DiNardo of New Castle.
The couple are planning an open wedding at 1:30 p.m. Nov. 9 at St. Nicholas Church in Struthers. Invitations will be issued for a reception that will follow at The Georgetown in Boardman.
The bride-elect earned a bachelor's degree in education from Youngstown State University and is a teacher at St. Nicholas School in Struthers.
The prospective groom earned a bachelor's degree in management and marketing from Slippery Rock University and is pursuing a master's degree in business administration from the University of Phoenix. He is a sales associate for Firestone Complete Auto Care in Boardman.