Chrobaks are honored with dinner for 50th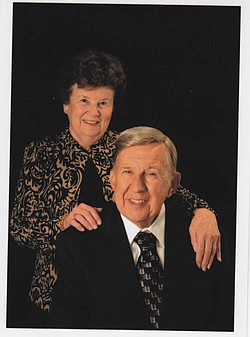 Photo
PULASKI, PA.
Mr. and Mrs. Ted Chrobak of Pulaski, Pa., celebrated their 50th anniversary Aug. 31 with a dinner and music at the Oak Tree Country Club, West Middlesex, Pa.
Hosting the event were their children, Ted and Marie Chrobak of Salem and Todd Chrobak of Pulaski.
The former Jean Ellen Frew and Mr. Chrobak were married Aug. 31, 1963, at Harmony Baptist Church, Slippery Rock, Pa.
Mrs. Chrobak is a retired teacher from the Ellwood City School District.
Mr. Chrobak is a professor emeritus at Youngstown State University and teaches part-time in the computer science and information systems department.
The couple are members of New Bedford Evangelical Presbyterian Church.