Bride-elect's parents announce October rites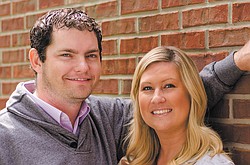 Photo
Troy Ledbetter and Elizabeth Mientkiewicz
NILES
Mr. and Mrs. Peter Mientkiewicz of Niles are announcing the engagement of their daughter, Elizabeth Mientkiewicz, and Troy Ledbetter, both of Cincinnati.
Tere Moore of Cincinnati and Russell Ledbetter are the future groom's parents.
The couple are planning to exchange vows Oct. 19 at St. Stephen Church. A reception will follow at Avalon Golf and Country Club at Squaw Creek in Warren. Invitations will be extended for both.
The bride-elect earned a degree in biology from Youngstown State University and a degree in perfusion science from Christ Hospital School of Perfusion Science. She is a cardiovascular perfusionist for Christ Hospital in Cincinnati.
Her fiancé earned a degree in marketing and communications from Mercyhurst University. He is a senior account executive in consumer packaged goods marketing for Hunter Straker in Cincinnati.