Argus Lodge chooses Mason of the Year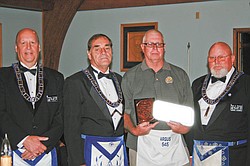 Photo
SPECIAL TO THE VINDICATOR: Participating in the recent honors ceremony of Argus Lodge 545 of Canfield and presenting the Mason of the Year award are, from left, Denny Furman, master of ceremonies; Russell W. Gillam; Ted P. Underhill, recipient; and Dale E. Hawkins, narrator.
Staff report
CANFIELD
Argus Lodge 545 Free and Accepted Masons recently honored Ted Paul Underhill of Boardman with the Mason of the Year Award. The award was established to honor a brother who has diligently served Argus Lodge and is viewed by the master and officers as a Mason with distinction in the last year.
Underhill has been a member of the Lodge for 13 years and is a member of its Fellowcraft team.
He also is a member of Youngstown Shrine, where he is a driver for Wheels of Mercy. He also is a member of Alpha Phi Omega.
Underhill graduated from Youngstown State University in 1977 with a bachelor's degree in education.
After college he went to work for Meander Nursery, which he now owns. He and his wife, Loretta, have three children, Adam of Akron, Zac of Austintown and Julie of Canal Fulton.