McDonald tops Ridge with defensive stands
By Tim Cleveland
sports @vindy.com
MINERAL RIDGE
McDonald vs. Mineral Ridge

Video
The McDonald Blue Devils play against the Mineral Ridge Rams.
Blitz Bands: McDonald & Mineral Ridge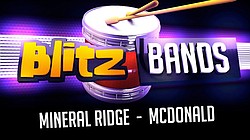 Video
Pregame and halftime band performances.
The majority of the credit in McDonald's 18-14 victory Friday night over Mineral Ridge should go to the Blue Devils' defense.
It ended a three-game losing streak in the rivalry for the Blue Devils.
"It feels great; it feels wonderful," McDonald coach Dan Williams said. "Our kids played to the end. It was one of our main goals was to beat Mineral Ridge. The senior class was focused. They came in and rose to the occasion."
McDonald's defense not only held the Rams to 176 total yards of offense, but came up with two huge stops on Ridge's final two drives of the game, including one in which the Rams were gifted an extra down by the officials.
"We had our backs against the wall," Williams said. "Things happen; they got five plays at one time. Our kids just kept fighting. We kept answering the bell."
In the fourth quarter, Mineral Ridge (4-2, 1-2 Inter-Tri County League, Lower Tier) drove down to McDonald's 14-yard line. On third-and-6, Rams quarterback Jonathan Baker was dumped for a 4-yard loss and Ridge was also hit with a personal foul penalty, which should have made it fourth and 25. However, the officials ruled it was still third down.
"I don't know," Williams said about the extra down. "We chart our plays; we chart every down. That was the fifth play. Luckily it didn't cost us."
McDonald (4-2, 2-1) held on the next play and forced a punt. The Blue Devils took over on their own 11 with 6:05 left and burned 3 Ω off the clock. Mineral Ridge drove to the McDonald 27, but Josiah Lovejoy intercepted Baker in the end zone to end the Rams' hopes with 1:21 left.
"Josiah Lovejoy made a great play at the end of the game to seal the deal," Williams said.
Mineral Ridge led 7-0 and 14-12 but was unable to hold the advantage. Coach Doug Velasquez said it came down to his team not doing the job on defense.
"We just had to stop them and get them off the field," he said. "We didn't make the right adjustments. We didn't make the plays when we needed to."
Matt Morrell led the Blue Devils with 136 yards on the ground, while Ben Carkido was 4-for-5 passing with a pair of 1-yard TD rushes.
"Matt's a heck of a runner for us," Williams said. "Matt's a good player. Put it in his hands and let him make plays. He did a nice job holding the football, especially late in the game."
The loss was a blow to Mineral Ridge's playoff hopes. The Rams entered Friday sixth in Division VII, Region 23's computer ratings.
"We've just to stay doing our stuff," Velasquez said. "We've got to get back to running the football and I think our kids are there. We've got to learn from this loss and move on."