Little Falcons play the Little Hornets

Photo
Neighbors | Submitted.A 100 pound Little Falcons player is shown making a touchdown at the game against Hickory Sept. 29.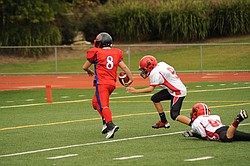 Photo
Neighbors | Submitted.Logan Italiano (#8) is shown making a touch down at the Austintown Little Falcon 140 pound game against Hickory Sept. 29.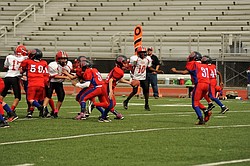 Photo
Neighbors | Submitted.The quarterback (#84) is shown passing the ball at the Austintown Little Falcon 120 pound game against Hickory Sept. 29.
The Austintown Little Falcons played against the Hickory Little Hornets Sept. 29 at Hickory Hornets Stadium in Hermitage, Pa.
In the 100 pound game, the Falcons went on a 28 point first half scoring binge and played tough, physical, shutout defense for the entire contest, netting their fifth victory in six games. Cameron Smith led the way with two touchdown runs on offense and an interception on defense. Terrance Pankey added a touchdown, Reuben Traylor Jr. scored a touchdown plus a conversion and Sammy Savo capped the scoring with a conversion run. Manny Ellinos and the offensive line cleared the way for their teammates and John Cambert, Angelo Sauceman, Jordan Schisler, Donovan Hileman, Aiden St. Clair and Kyle Mosser played excellent defense to preserve the shutout. The final score was Falcons 28-0.
It was a tough Sunday afternoon for the Falcon 120 pounders as the Hornets stung them 36-0. The Falcons play hard and do not quit, but the young team just can not seem to put it together yet.
Coach Antonio Page lamented, "Our kids all played hard again, they deserve a better fait."
All of the 120's played hard, but Peyton Quarles really excelled this week.
The 140 pound Falcons continue their march toward the league playoffs as they topple the Hornets 36-0 and improve their record to 5-1. Great team play on both sides of the football was the hallmark of this impressive victory in Hermitage. Drew Bretsik led the offense with two touchdowns while Daniel Ifft, Logan Italliano and Michael Wilson tallied for one each. Italliano, Richard Edwards and David Gunger tacked on the conversion points to complete the scoring. Nicholas Hall took the sting out of the Hornet's attack with a big sack of the quarterback while Christopher Scott, Donovan Jones, Justin Stainfield, Edwards and Gunger all turned in outstanding play to keep Hickory off of the scoreboard.
The Falcons will travel to Howland this Oct. 6 to take on the Tigers as the teams will play their final regular season games. The 100 pound game starts at noon followed by the 120's and then the 140's. Seeded playoffs will begin the weekend of Oct. 12 and 13.