Girls cross country team remain undefeated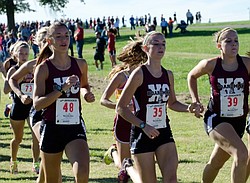 Photo
Neighbors | Submitted .Varsity runners Katelynn Morrell, Trista Cunningham and Brandi Gatte work together near the start of the Suburban League Championship Cross Country meet held at the Canfield Fairgrounds on Sept. 17.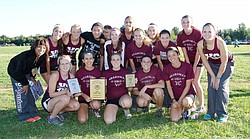 Photo
Neighbors | Submitted.The Lady Spartans Cross Country team defeated 16 other teams at the Suburban League Championships with a score of 49 points. The Spartans finished the league schedule with an undefeated record.
The Spartan Girls Cross Country team has moved undefeated through their Suburban League schedule capping it off with a first place performance at the league championship as well as handily securing the Mahoning County title on Sept. 24.
"We had a team goal of becoming Suburban and County Champions and I'm so proud of the girls for achieving those goals", said coach Stacey Hunter.
Hunter said it hasn't been an easy road.
"I had a couple girls not feeling well and it was awesome to see other girls step it up and have great races when their teammates weren't feeling 100 percent," said Hunter.
Leading the scoring for the Lady Spartans for the Suburban Championship was junior Jordan Grantonic, who finished runner up with a time of 20:15. Additional scoring was provided by Trista Cunningham (eighth place) 21:30, Emma Schwendeman (10th place) 21:33, Brandi Gatte (14th place) 21:42 and Katelynn Morrell (15th place) 21:47. At the Mahoning County Championship, Grantonic placed first overall with a time of 19:31 followed by teammates Schwendeman (fifth place) 20:35, Morrell (eighth place) 21:06, Cunningham (11th place) 21:25 and Gatte (12th place) 21:29.