YSU's 'Biscuit,' defensive line look to get on a roll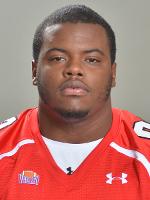 ---
By Joe Scalzo
YOUNGSTOWN
Octavius Brown is a 6-foot, 305-pound cement block, an immovable, run-stuffing defensive tackle who deserves an intimidating nickname like "Shutdown Brown" or "Can't Block Oc."
He got "Biscuit" instead.
"My last coach at Georgia Military College started calling me Biscuit and it stuck with me since then," Brown said.
So there's no deep meaning? No biscuit obsession?
"Nah," he said, "but I do love to eat 'em, though."
That's not all. On the way home from last week's win at Southern Illinois, a Southwest Airlines flight attendant announced that Brown had left his luggage back at the hotel, but that they found his "Hello Kitty" pajamas and would mail them back to Youngstown.
"I guess they wanted to pick on me for something," Brown said.
Did he think it was funny?
"No," he said (a little unconvincingly). "I didn't."
The fact that anyone was cracking jokes after Saturday's first half is a small miracle. The Salukis picked on YSU's entire defensive line for the first 30 minutes as SIU quarterback Kory Faulkner shredded the Penguins for 278 yards passing and four TDs in the first half.
"We came out kind of slow and sluggish and we weren't playing to our full potential," said sophomore DT Emmanuel Kromah, who had the Penguins' only sack against SIU. "In the second half, we made adjustments and came out fired up and ready to play."
YSU has never been much of a blitzing team under Eric Wolford, so aside from some personnel changes (specifically, adding defensive ends Vince Coleman and Derek Rivers), the Penguins simply played better up front, getting more pressure on Faulkner, who threw for just 70 yards in the second half.
"We got after those guys and [defensive line] Coach [Tom] Sims had a little talk with those guys at halftime about what they need to do and it showed up," Wolford said.
Added Brown, "We came out in the third and fourth quarter and basically won the game. They couldn't do anything with us."
After losing four starters on the defensive line, YSU's front four entered this season as the defense's (and maybe the team's) biggest question mark. It still is. YSU failed to get pressure against Michigan State and got blown out. The Penguins did better against their other three opponents, but, then, those teams were overmatched.
"The D-line is the heart of the defense," Kromah said. "It starts up front. We're the first to make contact with the other team.
"The defense goes as we go. If we're off, the rest of the defense is off. If we're on, the defense is on and rocking."
The toughest job for any recruiter is finding good defensive linemen. The best get snatched up by the SEC, followed quickly by the other power conferences. While undersized players can excel at other positions, everyone is looking for the same players on the defensive front, forcing FCS coaches to work harder than usual to find overlooked high schoolers and junior college gems.
Brown came from a junior college, Kromah from a New Jersey high school. Kromah then moved from defensive end to tackle and learned to love it.
"Playing inside, it's the grind, man, it's the trenches," Kromah said. "It's a war, man. Every play it's a double team, taking on 2-300 pounds, man. There's nothing better, man. There's nothing better."