Austintown Colts play Boardman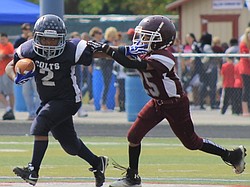 Photo
Neighbors | Submitted.Donovan Oliver (#2), of the 120 pound Austintown Colts team, is pictured holding back a Spartan player for a Colts gain in yardage Sept. 29.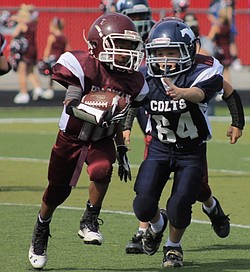 Photo
Neighbors | Submitted.Michael Guerreo (#64), a player on the 100 pound Austintown Colts team, attempts to black a Spartans player Sept. 29.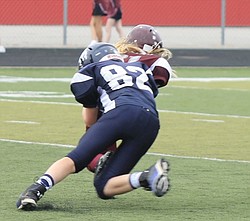 Photo
Neighbors | Submitted.140 pound Austintown Colts player Jacob Shood (#82) is shown sacking the Boardman Little Spartans quarterback for a loss of yards Sept. 29.
The 100 pound squad for the Austintown Colts fell 24-8 to the Boardman Little Spartans Sept. 29 at Austintown Fitch High School. The Colts played a hard game, but sadly came up short. The Colts will travel to Hickory for the Oct. 6 game.
The 120 pound Austintown Colts football team suffered their first loss of the season 12-14 in overtime. It was a defensive battle for both teams. Colin Roberts led the Colts defense in tackles.
The Colts junior varsity team traveled to Poland this Sept. 24 to take on the bulldogs and came home victorious. Outstanding plays both offensively and defensively by Connor Kent, Dominic Krohn, and Anthony Zandarsky led to the win for the Colts.
The 140 pound squad for the Austintown Colts improved their record to 4-2 with their fourth straight win this season by beating the Boardman Little Spartans 14-0. Full credit goes out to the Colts offensive line including Jacob Shood, Jacob Granger, Cole Tidswell, Austin Wilush, Bryce Davis, Thomas Rader and Noah Oneil for driving the field to score for the Colts while the defense kept the Spartans scoreless.