Amateur Radio Club has Hamfest and Tailgate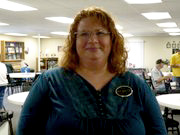 ---
By ELISE McKEOWN SKOLNICK
The 20/9 Amateur Radio Club brought back an event they haven't offered in years when the group had a Tailgate and Hamfest at the Austintown Senior Center Sept. 7.
The last time they offered the event was eight years ago. At that time, amateur radio wasn't as popular as it is now, said Dotti O'Neil-Meleski, vice president of the 20/9 Amateur Radio Club.
"After 9/11, after hurricane Katrina especially, where people realized what amateur radio was and how much it does in a community, amateur radio has been on the upswing," she said. "So we decided to bring our Hamfest back to the area."
The event included vendors offering a variety of amateur radio supplies, licensure testing and information forums. During the forums, participants learned about antennae basics, safety, and what's new in Ohio and in the Amateur Radio Relay League, the national association for amateur radio.
The event went well, O'Neil-Meleski said.
"I'm very happy with what we have so far for our first time back out in eight years," she said.
It's proof, O'Neil-Meleski added, that people are understanding what amateur radio can do in a community.
"People are seeing it. They're coming out and learning more about it, which is so important," she said.
Amateur radio operators are involved with emergency management agencies and help out with community events. The 20/9 club helped with Austintown's Fourth of July fireworks event and with the 911 ceremony at Austintown's 9/11 Memorial Park.
Events, such as the Hamfest, are a good way for amateur radio enthusiasts to meet others who are also interested in amateur radio, as well as obtain information and supplies, said Wes Boyd, Emergency Coordinator for the Mahoning County Amateur Radio Emergency Service.
"I'm happy to see this one come back," he said.
The Tailgate and Hamfest also included food, raffles and a silent auction.