Professional artist works with YSU students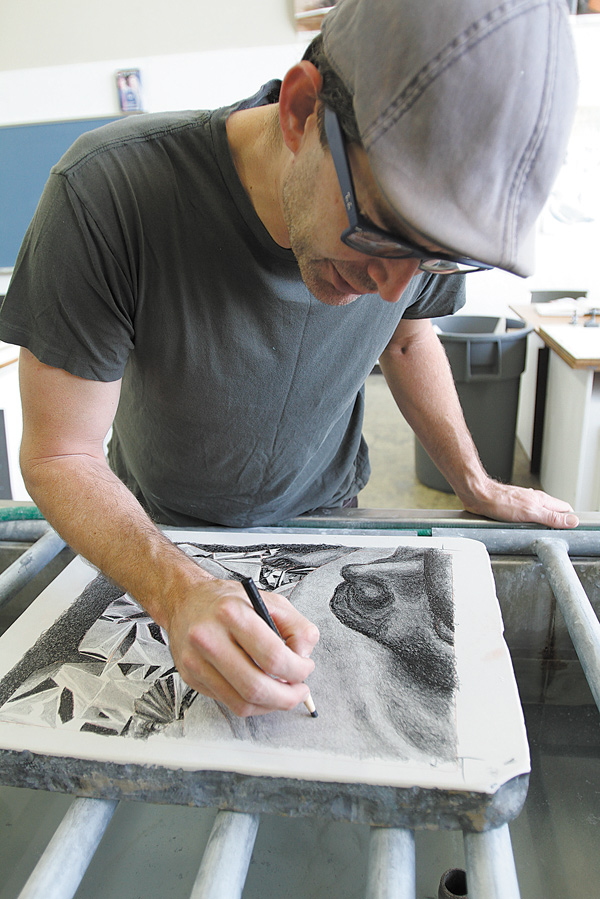 ---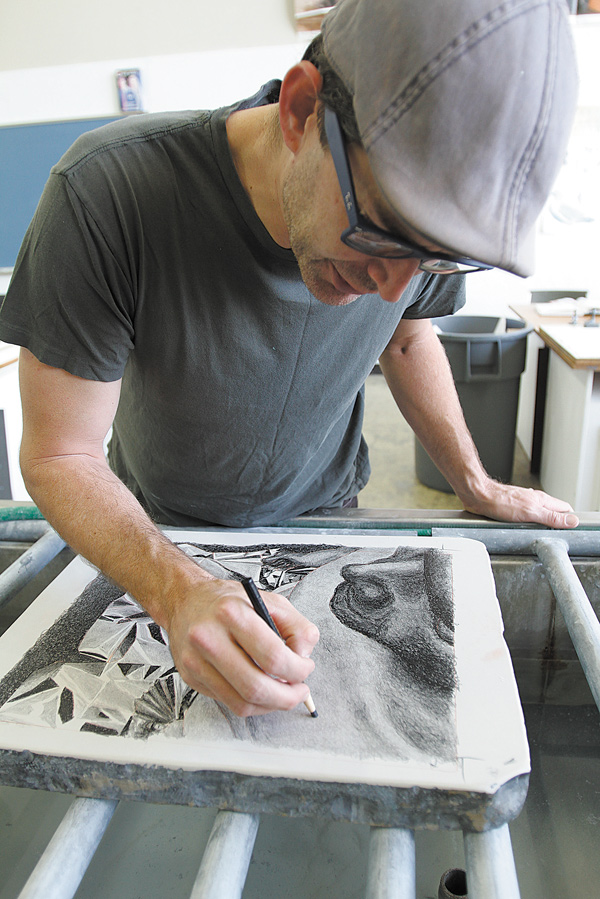 Photo
Using granite limestone as his canvas, YSU student Christopher Bosi sketches a drawing for a lithograph.
By DENISE DICK
denise_dick@vindy.com
YOUNGSTOWN
The latest installment of the Red Press Collaborative allows aspiring artists to learn alongside a seasoned master in a process that unites old-world and technological methods.
Guest artist and print- maker Michael Barnes is in the printmaking studio inside Youngstown State University's Bliss Hall from 9 a.m. to 5 p.m. through Friday working with students to create a limited-edition lithograph. Members of the public may stop in and watch the work.
It's called the Red Press Collaborative for its collaborative approach and because the prints are produced on a red press in the printmaking studio.
Barnes, a Michigan native and a professor of printmaking at Northern Illinois University in DeKalb, Ill., said his work is often influenced by the absurdity of humanity.
Sometimes it's sarcastic; sometimes it's humorous or cynical.
The work he created for the collaborative depicts a man lost at sea, dressed in a bird suit and floating in an inner tube. He allows viewers to assign their own meaning.
"Maybe he was the captain of the ship or maybe he was something else," Barnes said. "I leave that up to the viewer's interpretation."
Prints and T-shirts may be pre-ordered during the event. Limited edition prints are $125 each and T-shirts, which also bear Barnes' imagery, are $12.50.
At the end of the print making event, Barnes' finished print will be available to buy by subscription. A yearly subscription entitles the holder to a signed, numbered and documented print created during the event. Proceeds from the subscription will support the YSU printmaking program and the print collaboration.
Joe D'Uva, assistant professor in printmaking, said much of lithography remains as it was when the craft began in 1796.
"It's old-world science, so there's some nostalgia almost about it," he said.
But there's also some basic chemistry involved: oil and water don't mix.
Barnes initially sketches one of his pieces into a sketch book that he carries with him at all times. When he decides he wants to turn one of those into a lithograph, he transfers it onto either a slab of limestone or a metal plate using grease-based pencil. The stone or film is then coated with a thin layer of water. The artist
then applies ink with a roller over the image.
The ink adheres only to the greasy image. It's repelled by the water so the areas of the work intended to be blank remain so.
Barnes didn't grow up in a particularly artistic family but says his parents always supported his art.
"I just always liked to draw, and my parents were strong supporters of that," he said. "They didn't tell me, 'Stop it, and go do your math.'"
He honed his art in classes. Some teachers appreciated it. Others did not.
Barnes credits not being ensconced in art growing up with his being able to discover and find his own style.
He appreciates how lithography conveys his work.
"I love the way it transfers the imagery," the artist said.