Hughes reaches milestone; W. Reserve spoils JM's night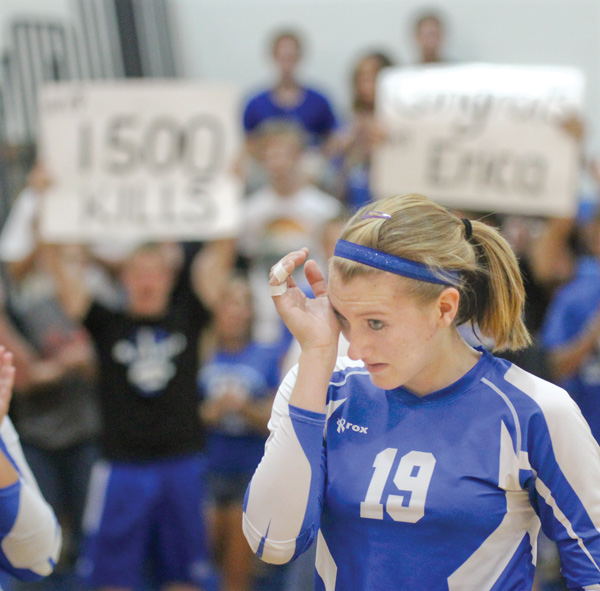 ---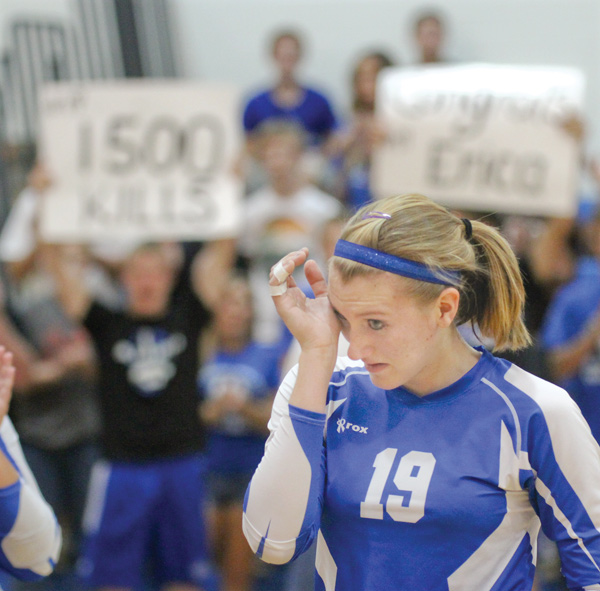 Photo
Erica Hughes of Jackson-Milton wipes her eyes after recording her 1,500th career volleyball kill during a home game against Western Reserve. The Bluejays fell to the Blue Devils, 3-0
By Kevin Connelly
North Jackson
Overcome with emotion, Erica Hughes was left standing on the court at Jackson-Milton High School posing for pictures and holding a sign that read "Congrats Erica."
It's the court where she's recorded so many of her 1,515 career kills after adding 26 to her total Wednesday night.
"It doesn't feel like it's happened, honestly," Hughes said. "It's just like, I don't know, unreal."
However, the milestone achievement was earned on a night where Western Reserve (14-1) was the better team on the court and defeated Jackson-Milton (9-7, 5-6 Inter Tri-County League Tier Two) in straight sets, 3-0.
"We have a lot of respect for Erica," Blue Devils coach Jen Paris said. "We know she's a great hitter, and we knew we needed to put up a block on her and take that space away."
That was something they failed to do in the first set, and the Bluejays took advantage. With Jackson-Milton leading 16-12, Hughes did what has become so natural for the senior hitter. Only this time, is was a milestone kill.
"It's extraordinary." Jackson-Milton coach Sue Prozy said. "No one has ever been close to that from this district and both of the other two hitters were just over the 1,000 mark, where she's surpassed it and added an extra 500.
"So it's just huge."
Hughes was honored with the game ball after her 1,500th kill, and received a well-deserved standing ovation from everybody in attendance.
"It's awesome, I love having the fans behind me," Hughes said of the special moment. "When I started out as a freshman, I never thought I'd get 1,000, then even 1,500 — I don't know, it's kinda crazy."
Hughes and the Bluejays were one point away from winning the opening set when the Blue Devils began to mount a comeback. Trailing 20-24, Western Reserve rallied for four straight points to even the set and then used timely digs to emerge with the win.
"I think what affected the team was losing that first game of the match because then the momentum swung to them," Prozy said. "Had we won that game, I think the outcome would have been different."
After the back-and-forth end to the first set, the Blue Devils jumped all over Jackson-Milton to take a 2-0 lead in games.
"I think the girls came out strong and wanted to put up a big block, and they started to take away some space, which we needed," Paris said. "They were ready to go; they were fired up."
Western Reserve's Rachel Maslach led the way with 21 sets, 16 kills, and five points. The Blue Devils won the third set, 25-22.
Despite the loss, it was still Hughes' court and she wasn't letting the moment drift away lightly.
"I can't believe we only have two home games left," Hughes said. "I don't know, it kind of feels unrealistic."
Western Reserve left the court with a victory that moved the Blue Devils one step closer to what they ultimately want to earn — a championship.
"I think the girls realize this is a rivalry game and they wanted to come out and fight hard," Paris said. "They're really determined this year."