Valley feels impact of government shutdown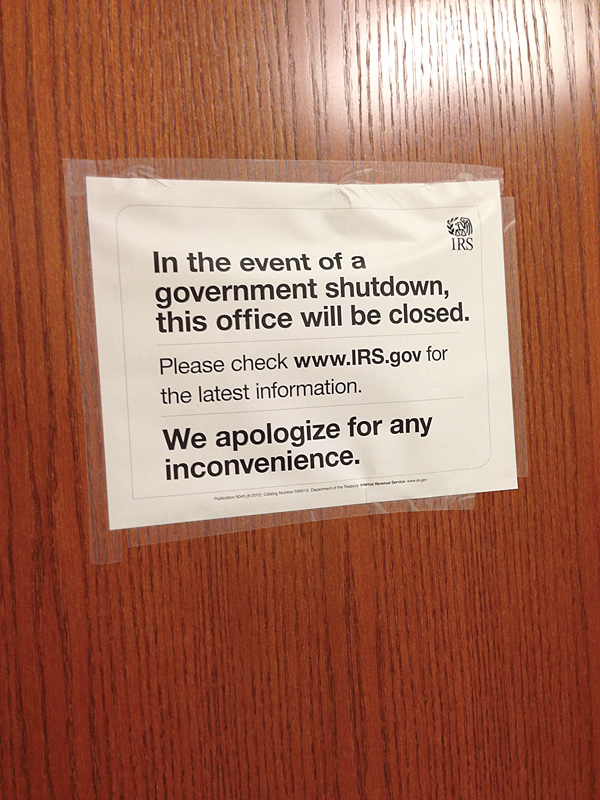 ---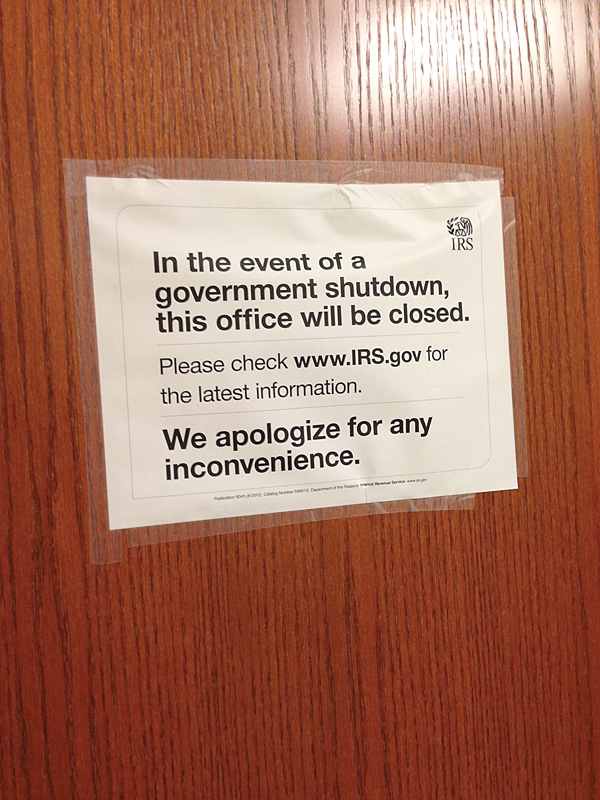 Photo
Signs were posted at the Internal Revenue Service office inside the Youngstown federal building Tuesday.
By EMMALEE C. TORISK
and Kalea Hall
YOUNGSTOWN
Clyde Hess of Boardman drove around Tuesday morning looking for an open Internal Revenue Service office.
But because of the government shutdown, after Congress failed to agree on essential federal funding by Monday's midnight deadline, all IRS offices are closed indefinitely — including the one inside the Nathaniel R. Jones Federal Building and U.S. Courthouse.
"I am very disappointed in Congress," Hess said, sitting in his car parked outside the federal building at 10 E. Commerce St. "I have to get some IRS forms, and there is no place open."
Hess said he was not expecting the government to actually go through with it, because the House of Representatives and Senate usually come through with a solution to avoid the shutdown.
"Everyone is trying to blame everyone." Hess said. "The very fact this office is closed means people will be suffering."
Though the IRS halted taxpayer services in one half of the federal building, operations of Youngstown's federal bankruptcy court hadn't been interrupted as of Tuesday morning, when Eddie LaRosa reported there, as scheduled, to attend a bankruptcy hearing. Federal courts — such as the bankruptcy and district courts, which are funded by filing fees — will remain open for approximately 10 business days, then reassess the situation on or about Oct. 15.
LaRosa, who lives in Youngstown, has been closely following news of the shutdown, and said he's displeased with lawmakers. He anticipates that the shutdown will last for about a month, and will cease only after unhappy citizens make known their complaints.
"Then, they'll quit fighting like little kids and get their work done," he said.
Atty. David Gerchak was at the East Commerce Street federal building on Tuesday as well, waiting for the start of a bankruptcy hearing. No aspect of the shutdown had affected him "just yet," Gerchak said, adding that he's hopeful it won't stretch too long — maybe a couple of days.
"They've dug their heels in, so I've got a feeling it'll last a little while," he said. "Eventually, they'll have to give in and do something for the short term."
At the Youngstown Air Reserve Station in Vienna, about 400 civilian personnel were placed on emergency, no-notice, nonpay furloughs, after reporting to work Tuesday to receive their official notice. About 50 people — mainly security and fire protection personnel — remained on the base, said Col. William Phillips, commander of the 910th Operations Group.
Phillips added that many of the furloughed civilians are employed by the base as air reserve technicians, or specialized reservists who work full time for the civil service during the week and have the same jobs on reserve weekends.
Their absence, however, seriously limits the base's operations, Phillips said. He indicated that most air reserve technicians maintain equipment on the base, particularly airplanes.
The base has suspended flying operations, he said, adding that the training weekend scheduled for Saturday and Sunday — during which most of the base's reservists would've been trained — also has been postponed.
"There are no normal government processes being done right now," Phillips said. "The normal missions for the 910th Airlift Wing have been disrupted, to say the least."
In addition, the base's website, maintained by the 910th Airlift Wing's public affairs office, reads, "Due to the government shutdown, this web site is not being updated," while the voicemail for Maj. Brent Davis, public information officer for the 910th Airlift Wing, explains, "Due to the federal government shutdown, I will be out of the office until further notice."
At Youngstown's Social Security field office, operations continued, but were limited. Social Security and Supplemental Security Income payments will continue with no changes, for example, but several services have been discontinued, including the issuance of new and replacement Social Security cards and replacement Medicare cards.
Michael Savage of Liberty was unable to receive an awards letter from the Social Security office when he went in Tuesday.
"I came all the way to get it and can't," Savage said. "They couldn't do it just because it's politics."
For a full list of discontinued activities, visit http://socialsecurity.gov/pressoffice/shutdown2013.pdf.
Employees of the field office, located at 354 E. Federal St., declined to comment.
James Kidd of Youngstown, who was waiting at the Social Security field office with a friend, expressed his frustration over lawmakers' actions that caused the government shutdown.
It's not fair for them to cut off others' paychecks, Kidd said, when it's obvious that if their pay was threatened, they'd "be more willing to do their job faster and keep on track."
"They need to stop playing games in Washington," Kidd said. "The whole country is impacted by their decisions, and I would like to see both parties working together instead of arguing back and forth. They're not getting anything done for us citizens and taxpayers."
Even recreational activities are curtailed. Whether you get to recreate at U.S. Army Corps of Engineers facilities depends on what region you're in.
The Corps' Baltimore District, which oversees recreation areas in the Susquehanna and Potomac river basins, said it "will temporarily continue full operations despite a lapse in federal funding," keeping its campgrounds and day-use areas open. The Baltimore District said in a news release that the Corps is funded mostly through individual projects that may carry over funds from year to year, and that all of that district's recreation areas have enough remaining money to continue operating through Monday.
However, in the Corps' Pittsburgh District, which controls the Mahoning and Shenango rivers and the lakes along them, the situation is quite different: "All Corps-operated recreation sites are closed until further notice," said Dan Jones, a Pittsburgh District spokesman.
At the Corps' Berlin Reservoir, Mosquito Creek Lake and Shenango River Lake, the public will find all access gates closed and locked, but the lakes will still be open to hand-carried canoes and kayaks or people with docks on the lakes, Jones said.
At the U.S. Attorney's Office for the Northern District of Ohio, Mike Tobin, district spokesman, said the shutdown would put about half of his district's staff on furlough.
At the Mahoning County Board of Health, Patricia Sweeney, health commissioner, said the federal government shutdown would not result in the furlough of any of her staff, and that state officials have assured her that Ohio's Women, Infants and Children supplemental nutrition program has enough money to operate until the first week of November.
Federal funds for WIC are passed through the state government to the county health department, which sponsors WIC clinics at its Austintown offices, at Oakhill Renaissance Place and on Hillman Way in Boardman, with a satellite clinic in Goshen Township.
St. Joseph Health Center is sponsor of WIC sites in Trumbull County. Offices are in the Gibson Building, 258 E. Market St., Warren; and at 979 Tibbetts-Wick Road, Girard.
The two U.S. Department of Agriculture offices at the Trumbull County Agriculture and Family Education Center on Main Street in Cortland are closed. The offices are Natural Resource Conservation Service and Farm Service Agency. The Trumbull County Soil and Water Conservation District and the Ohio State University Extension Service offices remain open for business.
Calls for the SWCD that go to the USDA number might not be answered because of an automated phone system in use, but calls to SWCD will be answered if they are placed to 330-637-2056, option 3.
Contributors: staff writers Ed Runyan and Peter H. Milliken