Utilities fight solar companies over rates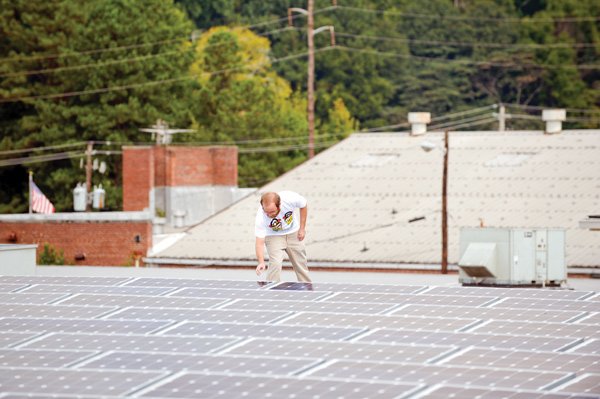 ---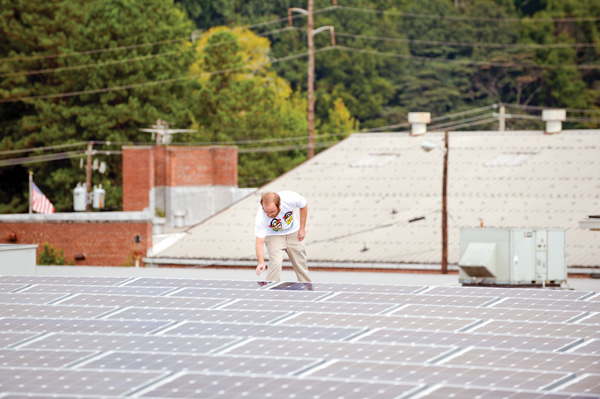 Photo
Mike Easterwood checks one of the solar panels installed on the roof of his 1947-era building in Decatur, Ga. Easterwood paid about $320,000 to install nearly 400 solar panels on top of his self-storage business near Atlanta.
Associated Press
ATLANTA
Sunlight is free, but if you use it to make electricity, your power company wants you to pay.
Utilities in many states say solar-friendly rate plans, conceived to promote alternative energy sources, are too generous and allow solar customers to avoid paying for the grid even though they use it.
Some power companies are proposing an extra fee for solar customers. Others are trying to roll back or block programs that allow those customers to trade the solar power they generate during sunny days for power they need from the grid during other times.
As rooftop solar expands from a niche product to a mainstream way to save money on power bills, utilities are afraid they will lose so many customers — and revenue — that they won't be able to afford to build and maintain the grid.
"We want to make sure that as we change the way our system works that all of that is good for all customers," said Greg Roberts, vice president of pricing and planning at Southern Co. subsidiary Georgia Power. The utility is proposing additional fees for renewable energy users, including one that would add up to about $22 per month for typical home solar systems.
Solar installers say the utility industry is trying to keep customers — and protect profits — as U.S. homes and businesses become more efficient and generate their own electricity. Rooftop solar systems would not be economical with some of the new fees or rate changes being pushed by utilities.
"They are trying to punish people for buying less electricity," says Bryan Miller, vice president for public policy at Sunrun, a solar financing company. "They are trying to kill solar."
Mike Easterwood, who paid about $320,000 to install nearly 400 solar panels on his business near Atlanta, says the new charges are designed to discourage people from installing new systems if they go into effect next year as proposed.
The fight has come about because solar systems have plummeted in price and grown more popular at a time when U.S. electricity use is flat or even declining. Utilities, already facing the prospect of weak sales for years to come, are seeing more customers buy drastically less power when they generate their own with solar panels, fuel cells, or other so-called "distributed generation" technologies.