Ursuline football team lends a hand
FOOTBALL PLAYERS AT WORK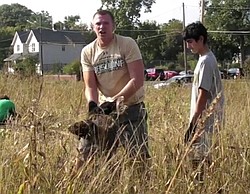 Video
Ursuline football players had a different sort of workout.
By Denise Dick
YOUNGSTOWN
Ursuline High School football players took to a different type of field aiming for a different type of goal.
After school Tuesday, team members pulled out cornstalks from the one-acre community garden across from St. Patrick Church. The field will be plowed and planted with rye to add nitrogen to the soil in preparation for next spring's sweet-corn crop, said garden co-chairman Gregory Davner.
Junior Aaryn Jones, 16, of Youngstown, a linebacker for the Fighting Irish, said the team does community-service projects "as often as we can."
He recalled another project where team members moved books into a school building.
Coach Larry Kemp said it's important that the team gives back to the city. The work not only is a team-building exercise, but also demonstrates that the team and the school value the city, he said.
"We're very proud to be known as Youngstown Ursuline High School," Kemp said.
The Rev. Edward P. Noga of St. Patrick Church is an Ursuline graduate, the coach said, and this marks the second year the team has helped with the garden.
Dante Cerimele, 15, a sophomore from Canfield who plays guard, has some prior experience working in the family garden at home. But he believes service projects such as those performed by the team are an important part of a Catholic education.
It's about showing your faith and helping out the community, Dante said.
"It's about instilling those principles in your life," he said.
Senior quarterback Chris Durkin, 18, of Youngstown didn't let turf toe or an air cast slow him down. "Come on, you city dwellers," he urged his fellow players.
He helps his grandmother, weeding on acreage she owns in Austintown.
"It's just like here, you have to get it from the root," Chris said.
The team does a lot of service projects, he said.
"It's important to give back when we can," Chris said.
Senior Raequan Reeves, 17, of Youngstown, a defensive back, agreed.
"We think it's important to help out as much as we can," he said.
Last spring marked the first sweet-corn harvest from the church's field, and Davner said most of the yield was given to parishioners.
He and Father Noga thanked Kemp and the players for their help with the project.
"We're trying to show people some of the possibilities in urban areas rather than just blighted houses," Father Noga said.