Cruze sales down 50 percent compared to a year ago
---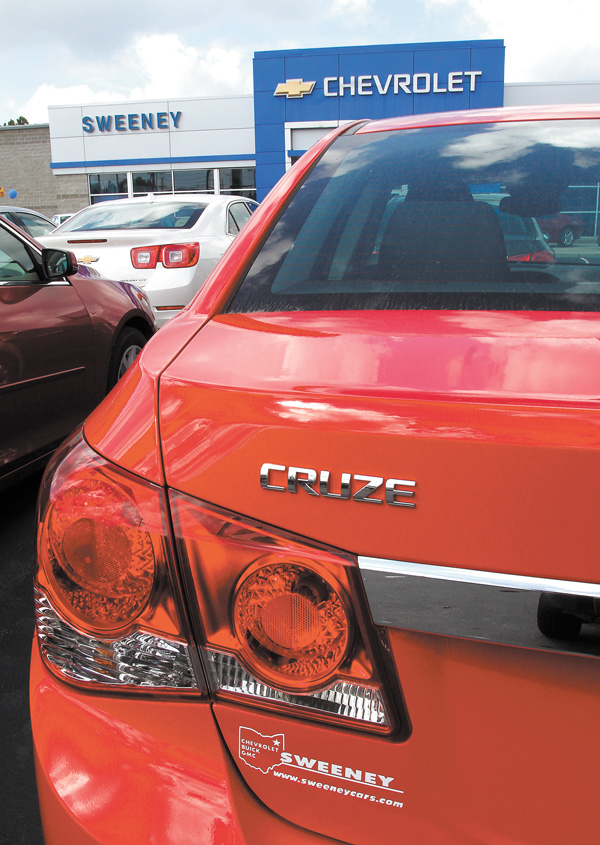 Photo
A Chevrolet Cruze on sale at Sweeney Chevrolet in Boardman on Tuesday.
By JAMISON COCKLIN
jcocklin@vindy.com
LORDSTOWN
Sales of the Lordstown-built Chevrolet Cruze hit an all-time low in September, when they tumbled by 50 percent from a year earlier.
It was the worst month in its three-year history, other than the three months after its launch in 2010.
The figure had analysts scratching their heads when General Motors reported sales Tuesday.
September was the second-straight month of sales declines for the Cruze. In August, sales slid by 8 percent.
Last month's data, however, marked the first time since January that Cruze sales dipped well below the 20,000 mark — a number auto analysts generally view as favorable regardless of any sales increase or decrease.
The Cruze sold 12,730 units last month, down by 50.6 percent from 25,787 a year earlier.
"I don't know if you would ever expect that, especially after the car's performance this summer," said Tim Fleming, an analyst at Kelley Blue Book. "It certainly is worrisome. You don't ever want to see the worst sales month in a vehicle's history."
Despite a slight drop in August, when the car still sold 23,909 units, the Cruze posted sales records from May through July. Included in that stretch was an all-time sales record in June with a 73 percent year-over-year increase.
Although September sales were dramatically low for the Cruze, it wasn't entirely unexpected. Analysts and forecasting firms anticipated a dip in the U.S. auto market after sales surged through the first eight months of this year on pent-up demand, higher consumer confidence and improving economic conditions.
Sales fell at General Motors, Toyota, Nissan and Volkswagen in September, an odd month that appears likely to snap a longer 27-month streak of gains for the U.S. auto industry.
Labor Day weekend is typically strong for auto sales, and this year was no exception. But because the holiday came early, the auto industry counted all of that weekend's sales in its August tallies, which cut into September's numbers.
That hurt the Cruze's September performance as well, said Jesse Toprak, a senior analyst at the automotive information website TrueCar.com. A number of other factors could have contributed to car's sudden sales decline. too.
Toprak said GM "pulled way back on fleet and rental sales" last month. Not only does the Cruze sell heavily in that portion of the marketplace, but Ford and Chrysler, which both posted a sales increase last month, ramped up their fleet and rental sales. That also could help explain how those automakers nearly matched GM in sales volume last month.
What's more, Toprak added, was a reduction in incentives such as financing deals that help sell the model each month. As the 2014 Cruze hits dealerships with lower incentives, GM has increased its offerings on the 2013 model to clear it off lots, creating what Toprak called a "balancing act" between the sale of both models.
Fleming said the Cruze's competition was strong last month as well. The Toyota Corolla is all-new and Honda has a redesigned Civic on the market.
Combine that with strong U.S. small-car sales last month, a small dent in both demand and consumer confidence, and market conditions were less than stellar for the Cruze, analysts said.
Glenn Johnson, president of the United Auto Workers Local 1112 at Lordstown, who represents about 3,100 workers in the assembly plant, said even he was surprised by the Cruze's decline.
"You sustain it for as long as you can. But there's going to be months when the buying public is focused on other things and decides not to shop," Johnson said. "I don't see it as a trend, and I don't think there's anything to panic about — it's just a hiccup."
For the most part, analysts agreed with Johnson. Toprak and Fleming said it will be important to see how the car sells in the coming months, but September sales don't indicate a downward trend.
Cruze sales are still up by 8.4 percent this year compared with last year. The model is GM's second-best-selling vehicle this year.
September U.S. sales for all vehicles are expected to total around 1.1 million, according to the auto shopping site Edmunds.com. That would be a 4 percent decrease from last September and a 24 percent decrease from the blistering pace in August, which was the best month in more than six years.
The U.S. government shutdown could be the wild card that cuts into sales for the remainder of the year, but Jim Lentz, Toyota's North American CEO, said the only way it would have an impact is if it causes credit to tighten.
Experts say all the factors that have been driving this year's strong car sales — including low interest rates, the improving economy and the need to replace aging vehicles — remain in place. They see a strong close to the year with annual sales still projected to reach nearly 16 million vehicles.
The Associated Press contributed to this story