Mill decked out for 'Olde Fashioned Christmas'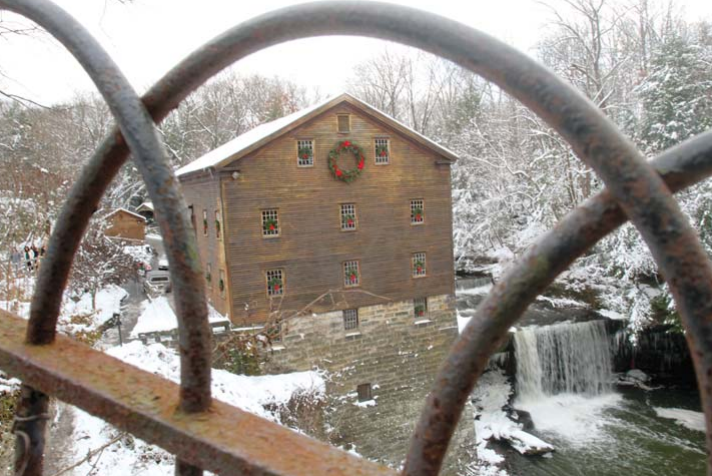 ---
By Kalea Hall
Youngstown
Maureen Kandray of Boardman gazed at her handmade lace tatted pieces on display and ready to be purchased by guests who come to the Olde Fashioned Christmas at Lanterman's Mill in Mill Creek Park.
The tatted pieces, which are crafted into different shapes using a series of loops and knots, she said, "are a treasure for someone to take away."
From 11 a.m. to 5 p.m. today and Sunday, all are invited to the decked-out mill for roasted chestnuts, live entertainment and to purchase handmade crafts such as Kandray's, plus wooden spoons and utensils, pottery, cement snowmen, photography, sketch art, ornaments and more. Some of the artists also will demonstrate their craft.
"Because it's Thanksgiving weekend, a lot of people bring their family," said Carol Vigorito, recreational and education manager for Mill Creek MetroParks. "It's become a family tradition."
For more than 25 years, the mill has hosted the families for a Christmas-themed celebration.
Wreaths are hung and the poinsettias are out for the party, which also includes a visit from Santa. Visitors may notice a difference in Santa because for the first time he will be wearing a Father Christmas suit, instead of the traditional suit he usually wears.
A new craft maker will bring in pine-cone creations.
A juggler, mime and balloon artist also will be at the mill to entertain both adults and children.
Kandray will demonstrate tatting at the event. She has been coming to the event as a vendor for the past 19 years, and she says it's one of her favorite shows to sell her "treasures."
"I just love the ambience of the mill and everyone who comes — it's like a memory trip for them," Kandray said.
In addition to her tatted necklaces, bracelets and even note cards, she also sells homemade soaps and potpourri.
Next to Kendray's booth is Sheryl Wheatley's display. The Poland resident sells German star ornaments ready to put on the tree or in a make-it-yourself kit. She also sells other handmade ornaments and stocking-stuffer items.
"It's a fun family event," Wheatley said.
Visitors also will have a chance to learn how to make pottery at the event. Kathy Adams of Austintown and Mary Brobersky of Lake Milton each brought in multiple handmade pieces of pottery to sell. Brobersky plans on showing off her skills for the visitors at the pottery wheel.
"It's a process," Adams said.
Steel Town Studios also will be at the event selling a newly sketched version of The Suspension Bridge in Mill Creek Park and Lanterman's Mill.
"This is always a fun show," said Bob Barko Jr., owner of Steel Town. "It's a great way to kick off the holiday season."
Any guests wishing to attend the event should remember to dress in layers since the mill is not heated. There will be guides directing guests where to park.